Andrew Lansley 'nominated' for top UN humanitarian role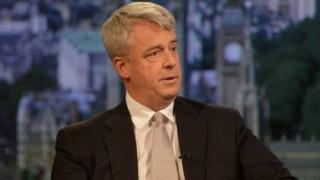 David Cameron has nominated ex-health secretary Andrew Lansley as the UK's candidate for one of the UN's most influential roles, reports claim.
Channel 4 News said that Mr Lansley, who left the Cabinet in July, was the prime minister's choice for the job as the UN's Humanitarian Affairs and Emergency Relief Co-ordinator
Baroness Amos has announced her intention to stand down from the role.
Channel 4 said UN Secretary General Ban Ki-Moon had asked for two other names.
Downing Street said it would not comment on the story and Mr Lansley's office told Channel 4 News: "There will be a UN recruitment process and he would not wish to pre-empt that or take it for granted."
Despite the role being held by a British official since 2007, a UN spokesman said there was no suggestion the role was reserved for an individual from any one member nation.
When he quit as a minister in the summer reshuffle, Mr Lansley announced that he would also step down as an MP but planned to continue in public life.
In his resignation letter, he thanked the PM for supporting him in his ambition to find a "challenging and important role in international public service".
Mr Lansley was seen as a frontrunner to become the UK's new EU Commissioner this summer but the job eventually went to Conservative peer Lord Hill.
'Outstanding service'
Baroness Amos has held the job since 2010, during which time she has led the UN's humanitarian response to natural disasters and conflicts, including the war in Syria.
She was nominated for the job by David Cameron weeks after he entered No 10.
The former Labour politician, who will step down in March, became the first black woman to sit in Cabinet when she became international development secretary under Tony Blair in 2003.
Mr Ban paid tribute to Baroness Amos' "outstanding service" in the role, saying she had "tirelessly advocated for people around the world affected by disaster and conflict".
"Her extensive experience, leadership and work in partnership with principals from the humanitarian community, has helped find solutions for people who are facing the worst experiences in their lives," he said.
The post of UN Humanitarian Co-ordinator was created in 1991 and has been held by a British official for seven years. Lady Amos was preceded by diplomat Sir John Holmes.
The UK has one of the largest foreign aid budgets in the world and has so far contributed more than £700m to those affected by the four-year Syrian conflict.