Counter-Terrorism: What the terror law expert thinks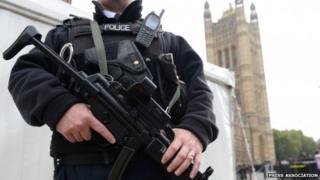 The government proposes the law, parliament passes it, then David Anderson reviews it - and sometimes makes recommendations. That's the usual sequence of events.
But today the independent reviewer was criticising the process before the new Counter-Terror and Security Bill was published. The QC used his customary polite, sometimes understated, tone - but this was a criticism of politicians whom he said hadn't fully thought through some of the proposals announced in early September.
It was David Cameron who unveiled plans to exclude some Britons fighting in Iraq and Syria from returning to the UK.
The prime minister branded such fighters "abhorrent" and said the threat they may attack people back home is too great to do nothing.
The original plan
The Cameron plan announced to MPs on 1 September said the coalition was "clear in principle that what we need is a targeted, discretionary power to allow us to exclude British nationals from the UK".
That immediately faced criticism from some in the Conservative Party, and legal voices outside, about both the morality and legality of such a policy.
David Anderson said today that the proposals in the bill were "nothing like as dramatic" as those unveiled by the prime minister almost three months ago. He said he believed it quickly became clear that such a move would "neither legally nor practically" work.
Reminding anyone watching of his proud independence, he went further, describing Mr Cameron's unveiling as an "announcement waiting for a policy". His impression of the original plan, he said, was that some of the ideas were "well thought through and well worked out and well prepared - others, not so much".
The current plan
The bill, unveiled just after Mr Anderson completed his appearance before the parliamentary committee, appears to be focused more on the idea of "managed return" than actually excluding Britons from coming home.
Indeed, you could ask if the government genuinely thinks it likely that anyone will in fact be forcefully excluded if these plans become law.
The reviewer said he understood that somebody who is seeking to fly home may be presented with an order and told they had to comply with obligations if they came home. (It's clear now that the bill outlines plans for a permit which insists on various restrictions if suspects are to be allowed back.)
David Anderson supports it, but he thinks it is a big change: "No doubt there will be cases about whether that is lawful," he told the committee, "but certainly in terms of restricting the right of abode it is nothing like as dramatic as what appeared to be originally proposed."
From talk of exclusion, it now appears the government is hoping for managed return or voluntary staying away.
Doubts?
The reviewer supports many of the measures in the bill and made it clear he believes the TPIM regime (Terrorism Prevention and Investigation Measure), with enhanced powers to restrict where suspects can go and who they can associate with, is still an "extremely useful" tool to counter the terror threat.
But he clearly has concerns about two key areas: judicial oversight and the role of the courts in a process which is very much focused on the discretion of the home secretary; and the extent to which foreign governments - who may end up playing host to these British terror suspects - are on board.
"Where are the courts in all of this?" was his refrain when he explained his concern about the extent to which suspects are protected. He reiterated that the home secretary has to go to court seeking a TPIM but under the new powers to exclude UK citizens temporarily that is not required.
Mr Anderson was asked if he knew of any other country who had powers similar to this in place, or plans for them. He didn't.
He was also asked what he thought the response from the UK government would be if another country imposed similar powers and deported a Briton. He said it would be hard for the UK to resist accepting a citizen back.