Universal Credit: Watchdog warns of cost of further delays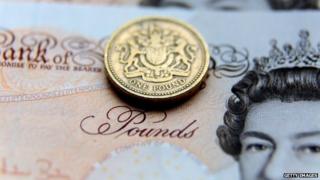 Ministers risk racking up a multi-billion pound bill if IT systems to run their flagship benefits reforms are not introduced on time, a watchdog claims.
The National Audit Office says there are no contingency plans to deal with any delays in the digital service being created to deliver universal credit.
The programme is already six months behind schedule, the NAO said.
Work and Pensions Secretary Iain Duncan Smith has insisted it is being rolled out in a "careful and controlled" way.
But, in a new report, the NAO warned that a further six-month delay could mean a £2.3bn loss in the societal benefits expected from moving people into work.
If the government had to rely on existing IT systems to roll out universal credit nationwide, rather than switching to the planned new digital service, it would face an estimated £2.8bn bill to cover staffing costs, according to the NAO's report.
'Incentive to work'
The universal credit system merges income-based jobseeker's allowance, income-related employment and support allowance, income support, child tax credit, working tax credit and housing benefit into a single payment in a far-reaching change designed to encourage work and reduce fraud.
Initially it was available only to single people and couples - but it is being extended, with parents able to claim it for the first time.
Work and Pensions Secretary Iain Duncan Smith said the reform would bring £35bn in economic benefits to the UK, was "easier to understand, easier to claim and provides a better financial incentive to work".
"Universal credit will generate up to an additional 300,000 people in work once fully rolled out," he said. "Three million households are set to gain by £177 on average and 500,000 working families will receive more help with childcare - 100,000 of those in part-time jobs benefiting for the first time.
"With the rate of childcare support increased from 70% to 85% of costs, parents can receive up to £646 for one child and £1,108 for two or more children."
'Poor management'
But Margaret Hodge, Labour chairwoman of the influential Commons Public Accounts Committee, said the Department for Work and Pensions was "still not getting it right" on UC and warned that it was "throwing good money after bad".
Previously, the NAO said they found universal credit to be beset by "weak management, ineffective control and poor governance" and the value of IT programmes had been written down by £34m.
The programme was "reset" last year and the original 2017 deadline was put back by two years. A "twin track" system was also introduced, aimed at reducing risk that means the new online digital service is being developed while the "live" IT system is operating.
Running two systems is costing £300m more than rolling out the programme more slowly and it is "too early" to tell if the plans will be value for money, the NAO said.
Mrs Hodge said there was cross-party support for the principles behind universal credit and she wanted to "see it work".
But she said the department's "unacceptably poor management of this programme has wasted time and taxpayers' money, with a staggering £600m spent in four years just to get to the first stage of business sign-off".
'Grave doubts'
"Now the department is throwing good money after bad by introducing a short-term fix with no adequate plan for delivery, insufficient skills and unclear milestones to measure progress against," she added.
"Given its track record, the department needs to get its act together quickly if it is to deliver a system that vulnerable benefit claimants can rely on."
Amyas Morse, head of the NAO, said: "The Department for Work and Pensions has reset Universal Credit on a sounder basis but at significant cost, by extending the time for implementation and choosing a more expensive approach.
"It is now vital that the department quickly establish clear goals for delivering the programme, in terms of cost, time and functionality, against which it can be held to account."
Shadow work and pensions secretary Rachel Reeves said the NAO report had "cast grave doubts over the future of universal credit", claiming it was "further evidence that the government's handling of universal credit has been disastrous".
Are you a parent who has just started to receive Universal Credit? If you are happy to speak to the BBC please email us at haveyoursay@bbc.co.uk and remember to leave your contact details.