Gordon Brown 'to stand down' as MP at general election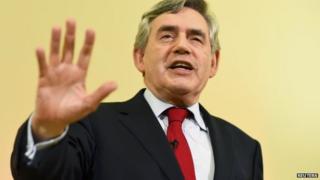 Former Prime Minister Gordon Brown is to step down as an MP at the next general election, reports say.
The Kirkcaldy and Cowdenbeath MP will announce his decision "within days", an ally told the Sunday Mirror.
There has been no official confirmation but senior Labour figures have told the BBC they expect him to stand down.
The 63-year-old, who recently played a leading role in the campaign against Scottish independence, has served nearly 32 years as a Labour MP.
Mr Brown was prime minister from 2007 to 2010, when Labour was defeated, recording its worst general election result since 1983.
Following the defeat, he initially kept a low profile at Westminster, making limited appearances in Parliament.
Renewed passion
But his reputation and passion for politics recovered during the Scottish referendum campaign, when he argued against independence but in favour of greater devolution.
BBC political correspondent Iain Watson said Mr Brown's friends made clear his intention to leave frontline politics when he ruled out contesting the leadership of the Scottish Labour party last month.
He is not expected to seek a seat in the House of Lords and is likely to continue in his role as a UN Special Envoy for Global Education.
With Labour facing a strong challenge from the SNP at the next election, Mr Brown's seat - with a Labour majority of 23,000 - is likely to be coveted by potential successors.