Labour: £1bn of UK banking fines should go to NHS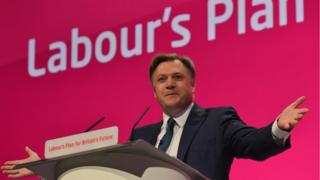 A billion pounds of banking fines should be spent on the NHS, Labour's Ed Balls has said in a conference speech.
The shadow chancellor said the money - from banks fined for manipulating foreign exchange markets - should be used for "a wider good".
He said the fines could be included in the Autumn Statement to provide an "immediate boost" to the NHS.
Chancellor George Osborne has previously vowed to ensure the money will be used for "the public good".
Five banks were fined a combined £1.1bn by the Financial Conduct Authority (FCA) earlier this month for "failings" that put the "integrity" of the UK financial system at risk.
Mr Balls called for the cash to be spent on the NHS during a speech to the Labour Party's East of England regional conference in Ipswich.
"Under David Cameron, it's getting harder to see a GP, A&E is in crisis and waiting lists are going up again," he said.
"£3 billion has been wasted on a top-down re-organisation while nurses and frontline staff have been lost. And cancer treatment targets have now been missed for three quarters in a row.
"So in next month's Autumn Statement George Osborne should use £1 billion of the fines from the banks for an immediate boost to our health service."
The Autumn Statement - to be made on Wednesday 3 December - is used by the chancellor to update MPs on the government's taxation and spending plans.
'Public good'
The latest banking fines show the UK still needs "big reform and cultural change in our banks", Mr Balls said.
He added that some of the remaining money from the fines should go to boosting the work of the Serious Fraud Office, which investigates and prosecutes serious or complex fraud cases.
Labour would also raise an extra £2.5 billion a year - on top of Conservative spending plans - for the NHS Time to Care Fund, if they are elected into government, Mr Balls said.
The money would be raised by introducing a tax on properties worth more than £2 million, closing tax loopholes, and by bringing in a levy on tobacco companies.
"This will allow us to deliver 20,000 more nurses and 8,000 more GPs. We will guarantee that people will not have to wait more than a week for a cancer test or 48 hours for a GP appointment," Mr Balls said.
"And we will repeal David Cameron's NHS changes that put private profit before patient care."
Speaking after the fines were issued by the FCA, Mr Osborne said: "The banks face big fines - and I will ensure that these funds are used for the public good."
In 2012 the chancellor announced the allocation of £35m from bank Libor fines to various armed forces charities in his autumn statement.
A year later, the amount collected had grown to £100m which Mr Osborne gave to military charities, ambulance and police services.