Profile: Mark Reckless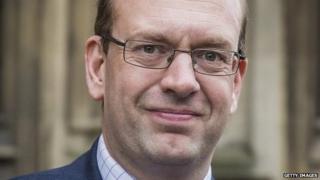 When Mark Reckless defected from the Conservatives to UKIP, some people said he was living up to his name.
Tory insiders had accepted that Douglas Carswell, who had defected a month earlier, would win Clacton for UKIP. But Mr Reckless, it was claimed, was a less popular figure than Mr Carswell, and UKIP a weaker force in the constituency of Rochester and Strood.
So his decision to desert his party and submit himself to a by-election was certainly risky.
But the gamble has paid off, showing at the very least that Mr Reckless has the tough hide and resilience so essential for a modern politician.
The announcement of his defection on the eve of the Tory conference caused genuine shock - there had been no inkling of it earlier in the Westminster village.
'Country rector'
But few could have been surprised that Mr Reckless - a diehard Eurosceptic, David Cameron critic and serial rebel - would be tempted by an anti-EU party like UKIP.
A bespectacled former City lawyer, Mr Reckless was once described as looking like a country rector, though beneath the mild appearance lies a fiercely rebellious nature.
Since he became an MP in 2010, he has voted against the government on everything from tuition fees - in the early days of the coalition - to air strikes in Iraq.
A Eurosceptic, committed to Britain's withdrawal from the EU, he was one of a handful of Conservative MPs UKIP did not stand against in the 2010 general election.
In 2012, he was seen as the driving force behind the coalition's first Commons defeat, leading 53 Tory rebels to back a motion demanding a real-terms cut in the EU budget, causing embarrassment to Mr Cameron on the eve of a Brussels summit.
His friendships reflect his Euroscepticism. Mr Reckless is close to his fellow defector, Douglas Carswell.
He is also a lifelong friend of Conservative MEP Daniel Hannan - another leading voice on the libertarian, Eurosceptic wing of the party. They were best man at each other's weddings.
In 2008, Mr Hannan wrote in the Daily Telegraph that Mr Reckless even organised his stag night in Reykjavik, Iceland, "determined that we should celebrate Iceland's status outside the EU".
Too drunk to vote
One of Mr Reckless's more memorable Commons moments came early.
He was forced to apologise to Mr Cameron after missing a vote on the coalition's first budget, because he had had too much to drink at a Commons bar.
"I'm terribly, terribly embarrassed. I apologise unreservedly and I don't plan to drink again at Westminster," he said.
The 43-year-old father of two told the Sunday Times recently he had now given up alcohol altogether: "I enjoyed myself at Oxford and working as a young graduate in London.
"But I don't drink and I find it easier to look after my children," he said.
---
How he got there
Born in 1970 in Eltham, south-east London, and privately educated at Marlborough College
Degree in PPE from Oxford University and MBA from Columbia Business School in New York
Economist for investment bank Warburg
Barrister from 2007
Married in 2011
Conservative MP for Rochester and Strood from 2010 to defection in 2014
Hobbies include "walking and running"
---
Mr Reckless's celebration after his latest electoral victory - in which he drank an orange juice and a couple of coffees before heading back to Westminster - was in keeping with his new sober image.
Interest in Mr Reckless has intensified since his defection catapulted him into the spotlight, even prompting a piece in the Spectator magazine about the origins of his name.
"Reckless", the article says, is a relatively common surname dating back to the Middle Ages. Along with "rash" or "foolhardy", the name also used to carry the more positive meaning of "carefree".
But with a bitter fight ahead to keep his seat next May, Mr Reckless is unlikely to feel that way for long.