David Cameron 'determined' to win back Rochester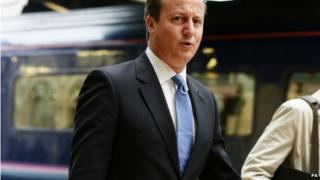 Prime Minister David Cameron says he is "absolutely determined" to win back Rochester and Strood, after UKIP's victory in the by-election.
The PM said the result was closer than predicted and voters could be won back to the Conservatives.
He warned that supporting UKIP risked a Labour victory at the general election.
But UKIP leader Nigel Farage denied voters would return to the main parties in 2015, saying "all bets are off".
UKIP's Mark Reckless, who defected from the Tories, won the seat with 16,867 votes, 2,920 more than Conservative Kelly Tolhurst's 13,947.
"Absolutely determined"
"If we can win here, we can win across the country. If you vote UKIP, you get UKIP," Mr Reckless said in his acceptance speech.
But David Cameron said the Conservatives would put up a fight.
"I'm absolutely determined to win this seat back at the general election because anything other than a Conservative government will put our recovery at risk and Ed Miliband in Downing Street," he said during an interview at London's Paddington Station.
The result was seen as another blow for the prime minister following the victory of Mr Reckless's fellow Conservative defector, Douglas Carswell, in Clacton last month.
A key part of Conservative strategy involves warning voters of the risks of supporting UKIP.
Leader of the Commons William Hague told BBC News: "If UKIP get Labour votes as they have done to a large extent here, they take a Conservative seat and that produces a situation in a general election where we could get a Labour government propped up by Nigel Farage, who said he could do a deal with Ed Miliband.
"We're not going to let UKIP let Ed Miliband sneak into Downing Street," he said.
But UKIP leader Nigel Farage said his party had scored a "massive, massive" victory and that "all bets were off" for the next election.
He said he was confident more defections to UKIP were on the way.
A total of 40,113 votes were cast in the by-election on a turnout of 50.67%.
Labour's Naushabah Khan came third with 6,713 votes, ahead of the Green Party which got 1,692 votes.
The Lib Dems finished fifth with just 349 votes, losing another deposit.