Call for climate change cash to be spent in UK rejected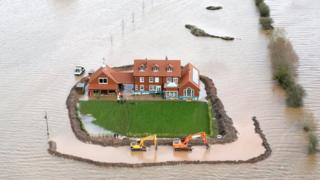 Ministers have defended plans to spend more than £600m on climate change in poor countries - after MPs some argued the cash would be better spent at home.
The UK is among a number of richer nations meeting in Berlin to make their contribution to the Green Climate Fund.
The fund was created to help less developed countries adapt to low carbon energy sources such as wind.
But Conservative Sir Edward Leigh says he believes the money could be better spent on flood defences in the UK.
His comments come after the National Audit Office claimed that spending on flood protection in England was "insufficient" to maintain defences.
But aid agencies say the UK's contribution to the Green Climate Fund is crucial in helping poor people protect themselves against the impact of climate change.
'Appalling scenes'
The Berlin conference aims to create a focus that will encourage governments to come forward with contributions.
The US has pledged $3bn (£1.92bn). Japan has offered $1.5bn (£959m), and France and Germany have also offered significant sums.
It is thought that the UK will pledge around $1bn (£639m) from existing aid budgets.
Conservative MP Sir Edward Leigh, former chairman of the influential Commons public accounts committee, said it was not appropriate to be spending so much money elsewhere when the UK was still borrowing £100bn a year and needed the cash for its own flood defences.
"We have to look at the interests of the taxpayer and our own people," he told BBC Radio 4's Today programme.
"We had appalling scenes at the Somerset Levels last year. I've had villages flooded in Lincolnshire. As the NAO said, we're still not spending enough on flood alleviation. First of all we need to spend the money here.
"I'm very happy to help people who are in poverty in the Third World. I'm happy to give money to humanitarian projects. I'm happy to spend money properly on protecting a village in Bangladesh from being flooded, but I don't want to commit now to £650m on spec."
'Enlightened self interest'
But Climate Change Secretary Ed Davey argued that the ring-fenced cash from the UK's aid budget was helping some of the poorest countries around the world deal with the impact of climate change and rising sea levels.
"Of course we're spending a large amount of money on dealing with our flood defences - £3.2bn this parliament - more than we've ever spent before," he said.
"We need of course to see if we can try to do more. We need to focus on this type of expenditure, but not at the exclusion of doing the right thing.
"There is a moral case and an enlightened self interest case because climate change is already affecting the economies and societies of other countries and that has a direct impact on us both through trade and indirect impacts on our supply chains that affect our groceries.
"People recognise that we live in a global economy where when something happens in another part of the world it can impact on our lives here. The idea we should be isolationist Little Englanders is absolute nonsense."
'No magic drawbridge'
Mr Davey said there would be a UK member on the board of the Green Climate Fund to ensure the money is spent on helping the poorest countries adapt to climate change and industrialise in a low carbon way.
And Lord Stern, a former government adviser on the economics of climate change, said: "To suggest that we must choose between investing in flood defences in the UK or helping international efforts to tackle the greenhouse gas emissions that are causing sea levels to rise along British coasts and leading the heavier rainfall is to misunderstand both the phenomenon itself and the basics of policy.
"Reducing risk and managing the effects of climate change must go hand in hand. To suggest otherwise is foolish."
Landless people
The UK's contribution will come out of the £3.87bn budget set aside in the aid budget from 2011-2016 for helping poor countries get clean energy and adapt to climate change.
Mark Goldring, Oxfam GB's chief executive, said the contribution showed that the UK was "a global leader in tackling poverty".
Alison Doig, Christian Aid principal climate change adviser, said the UK had been a front-runner in providing "life-saving finance" and now other countries were getting onboard.
BBC environment analyst Roger Harrabin said that in Bangladesh for example, British cash was helping landless people living on precarious temporary sandbanks that appear for a few years in the middle of rivers.
The cash pays them to build their homes on earth platforms so their possessions are safe from flooding which is expected to get worse with climate change.
UK aid experts say the river-dwellers are so poor that if they do not get paid daily they cannot eat - and if they do not eat they have no energy to build the platforms.