Rochester and Strood: Voters going to the polls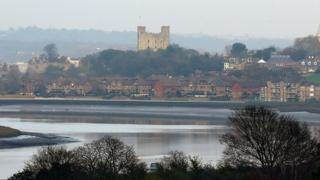 Voters have been going to the polls in Rochester and Strood, in Kent.
Thirteen people are running to be the area's MP. The by-election was called after Conservative Mark Reckless defected to the UK Independence Party.
Voting lasts from 07:00 GMT until 22:00 GMT. The result is due early on Friday.
Mr Reckless won the Kent seat for the Conservatives in 2010 with 49.2% of the vote. Labour came second with 28.5%, followed by the Lib Dems, the English Democrats and Green Party.
Mr Reckless is standing for UKIP against Conservative Kelly Tolhurst, Naushabah Khan for Labour, Geoff Juby for the Lib Dems and Clive Gregory of the Green Party.
Also standing are Hairy Knorm Davidson of the Official Monster Raving Loony Party, Independents Mike Barker, Christopher Challis, Stephen Goldsbrough and Charlotte Rose; Jayda Fransen of Britain First, Nick Long of People Before Profit and Dave Osborn of the Patriotic Socialist Party.
Full details of the results as they come in - and the reaction - will be on the BBC News website and the BBC News Channel through the night.
There will be a by-election special on BBC One with Andrew Neil from 23:35 GMT on Thursday.
And BBC Radio Kent will be live through the night with results and reaction presented by Julia George.
---
In Rochester and Strood the candidates, in alphabetical order, are:
Barker, Mike - Independent
Challis, Christopher - Independent
Davidson, Hairy Knorm - Official Monster Raving Loony Party
Fransen, Jayda - Britain First
Goldsbrough, Stephen William - Independent
Gregory, Clive - Green Party
Juby, Geoff - Liberal Democrats
Khan, Naushabah - Labour
Long, Nick - People Before Profit
Osborn, Dave - Patriotic Socialist Party
Reckless, Mark - UK Independence Party
Rose, Charlotte - Independent
Tolhurst, Kelly - Conservative