Osborne 'locks milk', claims Lib Dem Danny Alexander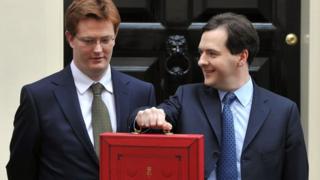 Chancellor George Osborne keeps his milk in a locked fridge at the Treasury, his Liberal Democrat colleague has claimed.
Chief Secretary to the Treasury Danny Alexander told journalists of his "amusement" at spotting the padlock.
It was denied by a Conservative Party source, who said a shared kitchen near Mr Alexander's office had been locked at night for years.
Mr Alexander was addressing political reporters at a lunch in Westminster.
In a reference to the school attended by Mr Osborne, he said: "We do share things - but not the milk, which to my amusement he still keeps under lock and key."
He added: "Really, his fridge in the Treasury kitchen is replete with a padlock. Yes, it must have been tough at St Paul's."
The Conservative Treasury team hit back, saying the fridge in question was used by Mr Alexander's staff.
"Danny clearly doesn't get his own milk", they tweeted.