EU migrants would wait two years for jobless benefits, Labour says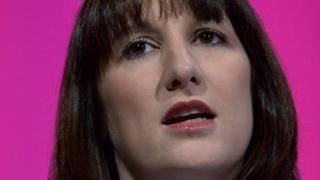 EU migrants would have to wait two years before claiming out of work benefits, under new Labour Party plans.
They currently have to wait for three months to apply for income-based jobseeker's allowance.
Shadow work and pensions secretary Rachel Reeves also wants to end child benefit being sent abroad and to curb in-work benefits paid to EU migrants.
The Conservatives said Labour had "no credible way" to make changes, and UKIP called the party "startlingly unaware".
Labour said Ms Reeves had already spoken to her counterparts from Europe on the issue.
Earlier, the party promised an extra 1,000 UK border guards if it wins the general election.
'Absurdity'
Shadow home secretary Yvette Cooper said the staff would be funded by a £10 fee for visitors from the United States and 55 other countries.
In a speech in London, Mrs Cooper also said Labour would call for an EU Migration Impact Fund within the existing EU budget to help regions that have seen a population rise because of immigration, paying for increased school places, medical staff or housing.
"It isn't racist to be worried about immigration or to call for immigration reform," she said.
BBC political correspondent Vicki Young said it was a "key day for Labour" with Ms Reeves following up Mrs Cooper's speech with more announcements, first revealed in an article she wrote for Mail Online.
---
Analysis
BBC political correspondent Carole Walker
It is no surprise that all the parties are scrambling to talk tough on immigration. Recent polling shows it is the issue of greatest concern to voters.
UKIP seizes every opportunity to ramp up the arguments and appears to be on course to be rewarded with another seat in Parliament after the by-election in Rochester and Strood on Thursday.
The Conservatives are braced for defeat and Downing Street appears to have taken a strategic decision to hold the prime minister's long-awaited speech on immigration until after the dust has settled.
Labour, who've recently woken up to the threat UKIP poses in many of their target seats, have seized the opportunity to announce their own plans to toughen the rules.
The government has already introduced restrictions on welfare payments to migrants and will be encouraged to go further after the European Court of Justice backed similar moves in Germany. But many of the key players including Angela Merkel have made it clear they are not prepared to compromise on free movement of workers.
In part the government is a victim of its own success. With the latest figures showing the economy growing by 0.7% whilst many other European countries are struggling, Britain is an attractive destination. The government still has a target to cut net migration to the tens of thousands but has admitted achieving that has become "much more challenging".
---
Ms Reeves told BBC News other countries, like Germany, had already gone further than the UK on the issue of qualifying periods for EU migrants, insisting there was a "window of opportunity" to make changes.
"Child benefit and child tax credit are for children who live in this country, and we would stop it being sent abroad," she said.
Rules tightened
In-work benefits are "not supposed to support people from day one in this country" and can encourage employers to undercut wages, she added.
The European Commission has said it supports action by member states to tackle abuse of the benefits system by migrants but that it will not countenance restrictions on freedom of movement and labour across Europe.
The government has already tightened the rules so EU migrants have to wait three months after arriving in the UK before they can claim child benefit and child tax credits.
Migrants are also barred from claiming jobseeker's allowance after three months if they are not looking for work, and the prime minister has said he wants to go further.
Mr Cameron wants to reduce immigration from other EU nations ahead of the referendum he has promised on Britain's EU membership by 2017.
He plans to set out his plans before Christmas, and his official spokesman said he had already raised the issue of child benefit being sent abroad with EU counterparts.
On a visit to Rochester ahead of Thursday's by-election the PM said the government had already reduced the numbers from outside Europe.
'Common sense'
He added: "Now people want to see clear plans about how we control immigration from inside the EU - and that's exactly what, as prime minister, I will deliver."
A Conservative spokesman said: "Nobody will believe a word Labour say on immigration or welfare."
Labour had opposed "every single step" the government had taken, he said, adding: "Labour have no credible way to deliver the real change that Britain needs because they oppose the prime minister's plan to negotiate reform in Europe and hold an in/out referendum."
The European Court of Justice recently backed Germany's attempts to restrict unemployed migrants' rights to welfare, a ruling welcomed by the UK government as "common sense".
UKIP migration spokesman Steven Woolfe said: "Ed Miliband's Labour Party are twisting themselves into knots trying to be UKIP, while trying to attack UKIP at the same time.
"This new idea of theirs will somehow, magically have to circumvent the EU's Lisbon Treaty, which the Labour Party keeps repeating its commitment to."