How unusual is Rochester and Strood?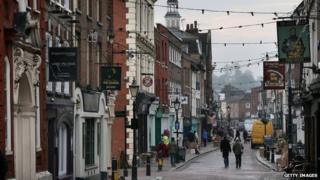 As UKIP marched towards by-election victory in Clacton, analysts sought to explain its appeal with reference to the seat's unusual demographics. Does the same reasoning work in Rochester and Strood?
Clacton was "ideal" territory for UKIP, explained Nottingham University's Prof Matthew Goodwin, who has been studying the evolution of UKIP's campaign tactics.
"This is a struggling, coastal seat: lots of older, white voters, few minority voters. It's classic left-behind territory - voters who feel they are not getting a say in Westminster."
Prof Goodwin's conclusions were underpinned by data from the 2011 census.
This showed that Clacton had the second highest proportion of over-65-year-olds in England and Wales.
Rochester and Strood, by contrast, has a much younger population, with fewer over-65s than the national average.
Proportion of residents aged 65 or over
Both seats have higher unemployment rates than the national average.
But in Rochester and Strood's case the difference is marginal.
Proportion of unemployed residents
Across England and Wales, the average proportion of people who identified themselves as being white at the 2011 census was 86%.
In Rochester and Strood, it was higher, at 90.4%. But this was a long way short of Clacton's 97.4%.
Proportion of white constituents
Pollsters have also linked lower levels of educational attainment with support for UKIP.
In UKIP-voting Clacton, the proportion of constituents with no qualifications was 16 percentage points higher than the national average.
But in Rochester and Strood it was marginally lower than the average.
Proportion of residents with no qualifications
So if demography does not explain UKIP's appeal in Rochester and Strood, then what does?
In an article for the Telegraph, Prof Goodwin recently noted a marked increase in the professionalism of UKIP's campaigning operation.
Since Clacton, it has been using voter identification system software, enabling the party to transmit different messages in different parts of the campaign trail.
Clacton's Labour-leaning residents were therefore wooed with the UKIP candidate's "opposition to the 'bedroom tax' and the need to punish bankers; Tory voters heard about the need for more GPs", he wrote.
The same strategy was deployed in Rochester and Stood, he added, while the Conservatives "remain focused on a story about the national economic recovery, which even a quick look at the surveys would show is not being felt by most UKIP voters".
It is a strategy that UKIP will try to emulate again and again during next year's general election campaign.
Prof Goodwin concluded: "While it is tempting to dismiss UKIP as a band of amateur populists, the reality is that it is no longer an amateur operation."