Ex-BP boss Lord Browne to quit role as Whitehall business adviser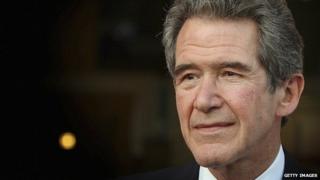 Former BP chief executive Lord Browne is to leave his role as the most senior business figure in government.
Lord Browne is leaving halfway through his second term, after joining the Cabinet Office in 2010 to advise civil servants on efficiency.
His role involved appointing business leaders as directors of government departments.
He was "realistic" about how more businesslike the civil service could become, he told the Financial Times.
The crossbench peer announced he would leave in January 2015, saying "I have achieved what I wanted to achieve".
'Ragged on the edges'
One of his tasks was to bring in business leaders including bosses of Centrica and Kingfisher to sit on management boards overseeing the 16 government departments. He also played a lead role in the government's plan to reform the civil service.
He said he had initially set himself a target of 10 out of 10 but, the paper said, he was happy "to settle for a six".
"It's been a piece of reality," he told the Financial Times. "You have to be realistic about what you can do in getting government to be more businesslike. "
"Things will always be ragged on the edges, far more ragged in government than in business".
Lord Browne also described the resistance he had met from civil servants when he started.
"Right at the beginning at least one very powerful person said to me, 'I want you to understand I think this is ridiculous'," he said.
Civil service review
Cabinet Office minister Francis Maude said Lord Browne had played "a crucial role in sharpening the governance of departments" and his work had helped save taxpayers £14.3bn last year.
Before taking up his government role, Lord Browne had been chief executive of BP for 12 years.
Critics have questioned the appointment of another former BP executive, John Manzoni, to the Cabinet Office. Mr Manzoni, who was deputy to Lord Browne at BP, was appointed the first chief executive of the civil service in October.
But Lord Browne defended the appointment, saying Mr Manzoni would keep up momentum.
Lord Browne also called for the next government to conduct a fundamental review of how the UK's civil service can succeed in the modern world.
"I would like people to look and say, what's the model for the future," he said.