Rochester and Strood by-election: Campaign in final stages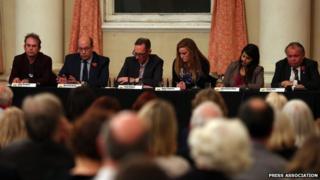 The campaign for the by-election in Rochester and Strood is approaching its last 24 hours.
The by-election was triggered after Mark Reckless defected from the Conservatives to UKIP and resigned his seat in September.
UKIP are hoping that opinion polls putting them in the lead prove accurate and they can repeat their success in last month's Clacton by-election.
The Conservatives have been hoping to halt UKIP's momentum by winning.
The BBC's assistant political editor, Norman Smith, who spoke to candidates in Rochester and Strood for the BBC News Channel on Tuesday, said immigration was the main issue in the constituency.
He added that the topic "has become something of a catch-all issue for a wider discontent towards Westminster and the political establishment".
He also said that the aftermath of the result will be as interesting as the result itself, "particularly in the Conservative Party".
Mr Cameron visited the constituency on Tuesday to canvass with the Conservative candidate, Kelly Tolhurst.
Mark Reckless resigned from the Conservative Party on 27 September, saying the Conservative leadership was "part of the problem that is holding our country back".
He also said that, as a Tory, he could not keep a promise to "cut immigration while treating people fairly".
Mr Reckless criticised the three largest Westminster parties, saying: "People feel ignored, taken for granted, over-taxed, over-regulated, ripped off and lied to."
Speaking to the BBC on Tuesday, he said that he was getting "a better response on the doorstep than I ever did as a Conservative", but said he was "taking nothing for granted" even though polls suggest he is on course to win.
He said that even if immigration was the issue exercising most voters in the area, his personal campaign was based on "putting the NHS front and centre".
He did not comment on whether a UKIP victory in the constituency would encourage other Conservatives to defect, saying it was an "incredibly individual decision".
Kelly Tolhurst was selected by the Conservatives in an open postal primary.
Ms Tolhurst, currently a councillor for the Rochester West ward, said: "I'm not a career politician and would never want to represent anywhere else in Parliament."
She said she was "honoured" to be selected to contest the 20 November by-election, saying she had lived in the area her whole life.
"My six-point plan to improve our area includes action, not just talk, on immigration, getting Medway Hospital out of special measures and fighting to stop the development at Lodge Hill," she said.
Senior Tories, including David Cameron and William Hague, have joined Ms Tolhurst in the constituency for canvassing throughout the campaign.
On Tuesday in Rochester, Mr Cameron reiterated his support for a curb on EU migrants.
In response to a question on whether enough of an effort had been made by the Conservative Party to hold the seat, he said: "I think Kelly has fought a very strong local campaign... and she has been very strongly backed by the Conservative Party - by Cabinet ministers, ministers - and I think it's absolutely right to do that."
Naushabah Khan, who works in public affairs and is a school governor in the Medway area in Rochester, was selected as the Labour Party's prospective parliamentary candidate in November 2013.
She says Labour is "the one party that gives all children a chance in life", and that it was a Labour government that provided her with good schools and opportunities.
Ms Khan told the BBC that Labour had not "given up" on the seat, and had "run a very strong and positive campaign".
She said that if UKIP win it "is really [David] Cameron who has got to do some soul-searching".
And she added that Labour had offered a "fair and strong" immigration policy that was "realistic" in responding to concerns by "some people who have seen their communities change".
Geoff Juby was the leader of the Liberal Democrat group on Medway council between 2000 and 2009.
He stood for Parliament in Rochester and Strood in the 2010 election, coming third with 16.3% of the vote.
He described Mark Reckless's resignation as "clearly designed as a stunt to get maximum publicity for the UKIP machine".
And he told the BBC that he thought "immigration has been good for the country", and was only such a prominent issue in the area because people had been "bombarded with UKIP literature and people on the doorstep".
Clive Gregory, the Green candidate, said his mission would be to direct NHS funding to appropriate hospitals, including the Medway Maritime foundation trust which "has been abandoned to its fate".
He also accused UKIP of pandering to the far-right.
Mr Gregory told the BBC on Tuesday that Green support in Rochester and Strood was "coming from all sides with the possible exception of the Tories".
He said he had "lost count" of the number of traditional Labour voters he had met in the past few months who had vowed to vote Green in the next election.
Several independent candidates have also been campaigning today. The BBC's Norman Smith caught up with them:
The full list of candidates, in alphabetical order by surname, is:
Barker, Mike - Independent
Challis, Christopher - Independent
Davidson, Hairy Knorm - Official Monster Raving Loony Party
Fransen, Jayda - Britain First
Goldsbrough, Stephen William - Independent
Gregory, Clive - Green Party
Juby, Geoff - Liberal Democrats
Khan, Naushabah - Labour
Long, Nick - People Before Profit
Osborn, Dave - Patriotic Socialist Party
Reckless, Mark - UK Independence Party
Rose, Charlotte - Independent
Tolhurst, Kelly - Conservative