Minister defend higher age limit for army reservists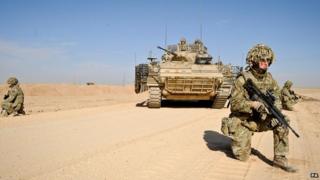 Ministers have defended plans to allow 50-year-olds to become army reservists, amid criticism from MPs.
Defence Minister Julian Brazier said he "made no apology" for raising the upper-age limit for people serving in specialist roles such as medics.
He told MPs that there was no question of them serving in combat roles.
But Conservative MP John Baron said plans to boost reservist numbers were "in a sorry state" and suggested the Army was being funded "on the cheap".
As part of a major re-configuration of the armed forces, the strength of the regular army will be reduced from 102,000 to about 82,000 by 2020.
At the same time, the government is seeking to increase the number of reservists in what was known as the Territorial Army from fewer than 20,000 to 30,000 by 2018.
'Specialist skills'
Last week, it emerged the age limit for individuals with specific qualifications or experience to be eligible to become reservists would be raised from 45 to 50 while the maximum age for ex-regular soldiers joining had gone up from 43 to 52.
Answering an urgent question in the Commons, Mr Brazier said he would not apologise for drawing on the experience of all those willing and able to make a contribution.
"There are roles like intelligence, medics and so on where they have specialist skills. There is no suggestion with the new standards... of having them in the combat arms."
Mr Brazier, a former TA officer, defended the wider changes, saying there had been "glitches" in the recruitment process but things were improving.
He said 2,100 reservists had been recruited in the first six months of the year and twice the number had been taken on in the last quarter as the same period last year.
Fitness checks
Proper medical, fitness and intelligence tests scrapped under the last government had been re-introduced, he added.
"We had a very long period of decline and neglect," he said.
"We then had in setting up a new system which re-established for the first time in a decade proper medical checks, proper fitness checks, started to collect the numbers properly and so, started with all these challenges, we had some glitches which have been very widely discussed.
But Labour said there had only been a net increase of 20 in reservist numbers in the past year and the plans were a "shambles".
"Capita is being paid £50m per year to assist recruitment, meaning each new net recruit is costing £2.5m and that's not including in that the millions spent online and on advertising campaigns," said shadow defence minister Kevan Jones.
"You have failed so badly that, two years in, you have had to announce the policy the upper recruitment age for recruitment is to be raised."
Several Conservative backbenchers have warned about the plans since they were first announced in 2010 but have failed in efforts to put them on hold.
Mr Baron, a former army officer, said the UK risked having a "capability gap" while former minister Crispin Blunt said the plans were not working and, at the current rate of progress, it would take between 100 and 200 years to hit recruitment targets.