Parliament defends hand-removal of leaves from its trees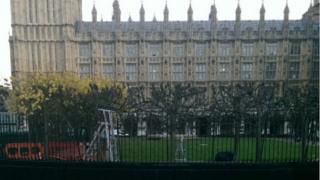 The parliamentary authorities have defended the practice of removing leaves by hand from trees at the Palace of Westminster rather than allowing nature to take its course each autumn.
The Palace's gardening staff have been "pleaching" lime trees outside the main entrance to the parliamentary estate.
Officials said it saved time doing this rather than waiting for the leaves to fall and then raking them up.
The Taxpayers' Alliance has criticised the practice as a waste of money.
The Palace of Westminster employs gardeners to look after trees and other floral displays on the parliamentary estate.
One of those was seen removing leaves from the lime trees in New Palace Yard on Friday, using a ladder.
The authorities confirmed that leaves were manually removed each autumn but could not say how much it cost to do so.
"The House of Commons employs a gardening service which covers maintenance of more than 145 trees on the parliamentary estate as well as grassed areas, indoor plants, containers and window boxes," a spokesman said.
"It is not possible to separate the cost of removing leaves from the trees from the wider cost of the gardening contract. The leaves are removed each winter as a more time-efficient alternative to raking fallen leaves."
'Keeping shape'
Gardener Annabel Honeybun told The Daily Telegraph that the procedure was necessary.
"I am not picking leaves off the trees," she said. "I am cutting them individually down to the second bud so they keep their shape.
"I wouldn't pick leaves off. These lime trees are so old and they have not been 'pleached' for years, so we have to keep their shape.
"We do it once a year. We are basically keeping them in the shape you see every summer. They have got quite shallow roots."
The trees of New Palace Yard stand in the shadow of Big Ben and are visible to thousands of tourists every day.
The Woodland Trust tweeted: "Autumn is cancelled? No one told us."
And the Taxpayers Alliance said the leaf removal practice was "bizarre".
"What a thoroughly pointless waste of money this is. We need to leave spending like this behind," said its chief executive Jonathan Isaby.