UK Youth Parliament stages annual Commons debate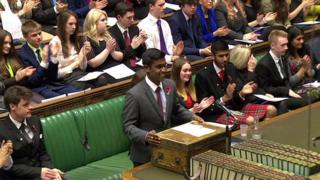 Members of the UK Youth Parliament have taken part in their annual Commons debate, chaired by Speaker John Bercow.
The 11 to 18-year-olds discussed the living wage, work experience, the voting age and other issues chosen by a ballot of 876,488 young people
The event, in which 285 took part, marks the start of Parliament Week, an annual campaign to raise awareness about politics and democracy in the UK.
More than 100 events will take place nationwide over the coming week.
This year's focus will be on encouraging political engagement in young people.
More than 300 organisations including charities, schools, museums and community groups are involved in the programme of events.
Alongside the timetabled events will be the launch of a campaign on social media entitled "Do Democracy".
It will encourage young people to share and discuss the issues important to them by using the hash-tag "#DoDemocracy".
A number of parliamentarians, including the chairman of the Political and Constitutional Reform Select Committee, Graham Allen, will take part in live Twitter Q&As during the week.
Mr Allen's committee released a report on Friday which called for "substantial reforms" to current electoral practice in order to re-engage the public with politics and democracy.
The publication of the report is intended to gather reaction from parliamentarians and members of the public.
'Democratic crisis'
Mr Allen said that "our democracy is facing a crisis" if people were not inspired to participate in the political process.
He said: "Turnout for the last general election was only 65% - almost 16 million voters chose not to participate - and millions of people are not even registered to vote. This is not an acceptable state of affairs for a modern democracy."
The report invites responses to proposals for the parties to include in their manifesto plans for reforms, including compulsory voting in certain elections, online voting, and votes for 16 and 17-year-olds.
Also suggested are further decentralisation and devolution so "the electorate can engage much more in deciding their own affairs", and "reforming party structures to better engage with the public".
The cross-party committee has also suggested making polling day for general elections a public holiday to encourage turnout.
The UK Youth Parliament met for their sixth annual Commons debate to discuss issues selected by their own representatives, including the living wage, creating opportunities for better work experience, whether exam re-sits should be permitted for English and Maths, how to improve mental health services, and votes for 16 and 17-year-olds.
'To the top'
Opening the session, leader of the House of Commons William Hague said details of Friday's proceedings would be sent to all government ministers to reflect upon.
"They are going to read them, whether they like it or not," he said.
Reflecting on his own political career, which began at 16 when he gave a speech to the Conservative Party conference, Mr Hague told delegates that they could "go to the very top" irrespective of their background.
"Today the floor of the House is yours," he said.
Among other events during Parliament Week, on Monday there will be a "Young People's Question Time", chaired by Krishnan Guru-Murthy of Channel 4 News and featuring Kwasi Kwarteng and Diane Abbott among its line-up of panellists.
Later events in the week include, among other things, a musical recital, a discussion over how a non-party-political Scottish Parliament could work, and a broad consideration of "politics and the North".