G20: David Cameron in Australia for world leaders' summit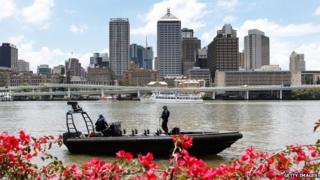 David Cameron is joining world leaders in Brisbane, Australia, for the G20 summit, which begins on Friday.
The talks will focus on the struggling world economy, with world leaders expected to set themselves a new two per cent growth target.
The prime minister will also meet the Russian president Vladimir Putin in the margins of the summit to discuss the conflict in Ukraine.
Mr Cameron has warned Russia's actions are threatening another Cold War.
The BBC's deputy political editor James Landale says the PM will use the summit to push for progress on an EU-US trade deal.
He will also promise to expand the UK's fast-track visa service, designed to attract investors by allowing business leaders and others to get a visa in just 24 hours if they pay an extra £600.
In his planned meeting with Mr Putin, Mr Cameron is expected to urge Russia to stop supporting separatist fighters in Ukraine and step up calls for more economic sanctions.
World leaders are also expected to discuss the Ebola crisis and the campaign against so-called Islamic state.