Nigel Farage: UKIP could do deal with Labour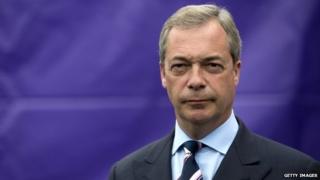 UKIP could support a minority Labour government after the next general election, Nigel Farage has said.
Asked by the New Statesman if he could back Ed Miliband as prime minister, he said: "I'd do a deal with the Devil if he got me what I wanted."
The Conservatives have promised a referendum on UK membership of the EU in 2017. Labour will only offer a vote if Brussels demands fresh powers.
Labour said the party was "aiming for victory and a majority government".
In the question and answer style article, Mr Farage was asked what he would do if Mr Miliband said to him: "Look, Nigel, can I have your eight to ten MPs in the coalition and we give you an in-out referendum?"
Mr Farage replied: "That would depend when the referendum was, and the terms."
But pressed on whether he was ruling a coalition out, he replied: "Of course not."
'Get my country back'
He said a Labour-Lib Dem-UKIP "rainbow" coalition was "extremely unlikely", adding: "To be honest, the way I look at it now, I can't see UKIP wilfully going into formal coalition with anybody."
But asked again if he would be comfortable supporting Labour, Mr Farage said: "I'd be very comfortable supporting anybody that gave me an opportunity to get my country back."
The UKIP leader has hinted at similar arrangements before. Early last month he suggested his party could keep a minority Tory or Labour government in power in return for certain concessions, which were taken to focus on an in-out referendum on UK membership of the EU.
This would mean UKIP's MPs agreeing to support Labour on confidence votes in Parliament and on legislation to finance its key policies, like the Budget.
But a Labour spokesman said: "Labour is aiming for victory and a majority Labour government at the next general election."