Secret MP expenses investigations come under fire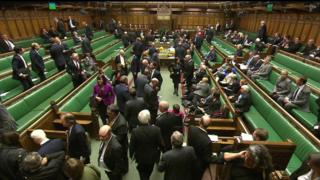 Plans to keep MPs' names under wraps during investigations into their expenses have been criticised by the Commons sleaze watchdog.
The Independent Parliamentary Standards Authority (IPSA) wants to carry out the probes in secret.
IPSA compliance officer Peter Davis said the change would balance the "public interest in transparency" with "operational needs and fairness".
But the Standards Committee claims the move would "tilt the balance too far".
The proposal, put out for consultation in September, has faced suggestions that it would make the IPSA regime less transparent than the one it replaced in 2010 - when the identities of those under scrutiny were routinely confirmed.
'Reputational damage'
The cross-party Standards Committee has now also voiced concerns, pointing out that the parliamentary standards commissioner currently publishes names when she launches formal investigations.
"There is clearly a difficult balance between transparency and the fair and efficient conduct of investigations," members claimed, in response to the consultation.
"We consider it is possible that the changes proposed in the consultation may tilt the balance too far from transparency ...
"We invite IPSA to consider whether the advantages of removing the assessment stage outweigh the transparency brought by the current system, in which names are released if it appears there may be grounds for investigation."
But defending the measure, Mr Davis highlighted the "reputational damage" to MPs caused by naming them before investigations were complete.
If the proposal is implemented, it will be IPSA's second U-turn on the issue.
Private hearings
The watchdog, created by Parliament in the wake of the MPs' expenses scandal, had initially indicated that the names of MPs under investigation should be released when probes were launched - but the body's compliance officer Luke March then refused to do so on the basis it was "unfair".
He later quit and a consultation in 2011 concluded that the identities should indeed be made public during formal investigations rather than after them.
Ongoing investigations had been declared online. But on November 12 a notice on the watchdog's website said information on MPs' expenses would be "unavailable" until November 13 while "we will be uploading new publication data".
The Standards Committee did support plans for closed hearings on alleged abuses of MPs' expenses.
"In this case, we agree that private hearings strike an appropriate balance between fairness and transparency, although we recommend the transcript of any such hearing should be published by the compliance officer at the conclusion of any investigation," it said.