Tony Blair gives Ed Miliband his 'full support'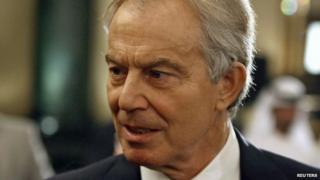 The former Labour Prime Minister Tony Blair has offered his "full support" to Ed Miliband, who has faced questions about his performance as Labour leader.
Mr Blair, speaking from Sierra Leone, told Sky News Mr Miliband was "robust enough" to deal with criticism.
Mr Blair, who faced several bouts of speculation over his future when Labour leader, said: "I've said a thousand times he has my full support."
A succession of senior Labour figures have backed Mr Miliband this week.
Jokingly asked if he would come back to "save" the Labour Party, Mr Blair said: "That's not my job now."
Former Home Secretary Alan Johnson has again said he would not stand for the Labour leadership, after reports he might be seen as an alternative leader.
"The position of Labour leader has been vacated twice during my time as a member of parliament," the Hull MP wrote in the Guardian,
"Both times I chose not to stand. I happen to think that a better person took this onerous role on each occasion.
"I have never stood for the leadership of my party, and for the avoidance of doubt, regardless of the circumstances, I never will."
"Suicidal strategy"
Ed Miliband has faced a week of bad headlines, including a report in the Observer that 20 shadow ministers are ready to call on him to quit.
The former leader Lord Kinnock acknowledged such reports were "serious" and shadow energy secretary Caroline Flint admitted there were "jitters" in Labour ranks.
And the Labour backbencher Simon Danczuk has openly criticised Ed Miliband's leadership. "It's clear that this great wishful rapport with the British public isn't happening. Ed is not popular," he said.
"He's not a personality and he needs to recognise this and stop pursuing a suicidal strategy."
The Conservatives are making questions over Ed Miliband's leadership a key theme in the run-up to the general election next May.
Mr Miliband himself has denied claims of a crisis in his leadership.
During a speech to the CBI conference on Monday, he joked that "you shouldn't believe everything you read in the papers".
He was said to have got "overwhelming support" from MPs speaking at the weekly gathering of the Parliamentary Labour Party.
And a Labour aide told the Times a speech later this week would explain "why he stood for the leadership in the first place".
A letter signed by 100 Labour candidates, including many in marginal and target seats, called for an end to the "campaign of briefing to destabilise Ed and his leadership".
Published by the LabourList website, it said that Mr Miliband had "led our party to within striking distance of government" and that they were "proud to be led by a man that we know to be honest, sincere and decent.