Ed Miliband warns threats to leave EU a 'danger' to UK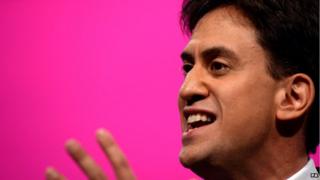 Ed Miliband is to warn that threats to leave the EU are a "clear and present danger" to the UK's future prosperity.
The Labour leader will tell the CBI on Monday that an EU exit would "close us off from the world" and risk jobs.
The party is keen to move the focus away from debate about the leadership, with one Labour MP saying Mr Miliband was "not popular".
But former cabinet minister Lord Falconer said there was "absolutely zero chance" of him stepping down.
Prime Minister David Cameron has promised an in/out referendum by 2017 if the Tories remain in power after next May's general election.
BBC political correspondent Chris Mason says the EU speech comes with Labour desperate to shift the headlines back to what it sees as significant policy differences with its rivals.
'False solutions'
Mr Miliband is expected to tell business leaders that the UK is "ever more isolated from its partners", urging closer working with other members to reform the EU budget.
"Leaving the single market and stepping away from a trading block that strengthens Britain's ability to work with the new economies, like Brazil, India and China, would be a disaster for our country," Mr Miliband is expected to say.
"It would risk businesses billions of pounds in lost profits. It would risk millions of jobs. It would make Britain weaker, not stronger, in the world."
The Labour leader will argue it is equally dangerous to either advocate an EU exit or to "flirt" with the idea, thereby sending a message that Britain is "not open for business".
A Labour government would not transfer any further powers to the EU without an in/out referendum, he will tell the business lobby group.
Last month, Mr Miliband promised to "seek change in Europe", with plans including longer transitional controls on immigration when new countries join the EU, stopping child benefit and child tax credits being paid to children living abroad and doubling the period of residence before people are entitled to benefits.
Leadership in spotlight
His Europe speech comes amid further reports that some members of his own party are unhappy with his leadership - despite several Labour MPs publicly backing him.
Labour backbencher Simon Danczuk told BBC One's Sunday Politics Mr Miliband would lead the party into the election, but added: "The numbers show us he's not popular. That's the reality."
Speaking on Sky News, former Labour MP Andrew Mackinlay said Mr Miliband should step down. But former London Mayor Ken Livingstone predicted he would become "the most significant prime minister since Margaret Thatcher".
Lord Falconer, the former Lord Chancellor, acknowledged it was "not a good day in the Sunday papers" for Mr Miliband.
But he told the BBC's Andrew Marr Show: "He is strong and focused and aware that one's going to go through periods like this, but he's very aware of the responsibility on his shoulders to win this election."
Shadow education secretary Tristram Hunt dismissed as "total nonsense" a report in the Mail on Sunday that he expressed concerns about Mr Miliband's leadership in private chats with colleagues.
Writing on Twitter he said Mr Miliband was "the right person to lead Labour and the right person to lead Britain".
And former Home Secretary Alan Johnson, who has been talked of as a potential Labour leader, told the Times on Saturday he supported Mr Miliband and had "no intention of going back to frontline politics".
However, according to the Observer, 20 shadow ministers are ready to call on Mr Miliband to quit, with three senior Labour MPs apparently contacting the paper to say that frontbenchers were ready to take action with the party's leadership situation at "critical mass".
Shadow Europe minister Pat McFadden denied there had been calls among the shadow cabinet for Mr Miliband to stand down.
He told BBC News: "When you join the Labour Party, it's part of your terms and conditions that you're allowed to grumble about the leadership. So I'm sure there's some of that going on. But I don't really see the talk of plots and coups going anywhere."
Meanwhile, a Survation poll for the Mail on Sunday suggested Labour's four-point lead would double if Mr Miliband stood aside for Mr Johnson or shadow business secretary Chuka Umunna.
And a YouGov poll in the Sunday Times, suggested only 34% of people who voted Labour at the last general election believed Mr Miliband was up to the job of prime minister, compared with 51% a month ago.
YouGov president Peter Kellner told the Andrew Marr Show Labour was in "real trouble", although he said most 2010 Labour voters would support the party again in May.
"Ed Miliband's ratings are terrible but it's not yet translating into Labour being on the floor as a party," he said, adding that the government was also unpopular according to the polls.