Commemoration service for first British MP to die in WW1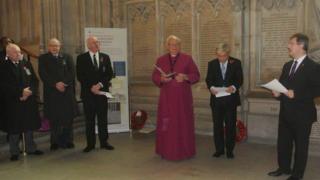 The first British MP to die in World War One has been commemorated at Westminster on the 100th anniversary of his death.
The service for Capt Arthur O'Neill, who was elected as the Ulster Unionist Party MP for Mid-Antrim in 1910, was conducted by former Church of Ireland primate of All Ireland, Archbishop Robin Eames.
Capt O'Neill, father of former Northern Ireland Prime Minister Terence O'Neill, died while fighting with the 2nd Life Guards regiment at Zillebeke Ridge in Flanders on 6 November 1914, aged 38.
Arthur O'Neill, the elder son and heir of the second Baron O'Neill and Lady O'Neill of Shanes Castle, County Antrim, was educated at Eton.
He was gazetted to the 2nd Life Guards from the Militia in 1897 and served in the earlier part of the South African War, taking part in the relief of Kimberley and operations in the Orange Free State at Paardeberg, the action at Dreifontein, and the action at Colesberg.
Afterwards, he served in Cape Colony, south of the Orange River, and took part in several actions, for which he was awarded the Queen's Medal with three clasps. He was promoted to captain in 1902.
In 1902, he married Lady Annabel Hungerford Crewe-Milnes. Two of their sons were to die in action in World War Two.
Capt O'Neill represented Mid-Antrim from the general election of January, 1910 and took an active part in the formation of the Ulster Volunteer Force. He rejoined his regiment only three weeks before his death.
He was killed in action at Klein Zillebeke ridge in Belgium during a bayonet charge while serving with A Squadron, 2nd Life Guards and was the first sitting member of the British Houses of Parliament to be killed during the Great War.
His younger brother Hugh, later Baron Rathcavan, succeeded him as MP for Mid-Antrim.