William Hague backs e-petitions rule change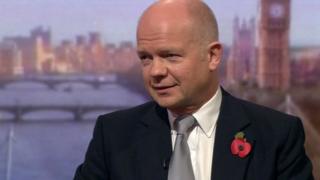 William Hague has said he is "happy" to support a demand that at least five people should back a government e-petition before it goes online.
Currently just one person needs to put their name down to get to publish the document, which can trigger a debate in Parliament if 100,000 back it.
Mr Hague, leader of the Commons, said petitions were designed to show the views of "several people together".
He also said a committee of MPs should be set up to oversee them.
E-petitions were originally set up by the last Labour government. Since 2010, those gathering enough support can be put forward for debate by the Backbench Business Committee.
Subjects discussed so far include the 1989 Hillsborough disaster, fuel taxes, population limits, a proposed cull of badgers, the award of the West Coast mainline rail franchise, beer duties, the future of Remploy factories and a referendum on UK membership of the European Union.
'Good response'
Mr Hague, giving evidence to the House of Commons Procedure Committee, said a committee should be set up specifically to deal with oversight of petitions, including the possible publication of libellous material, which could end up undermining the "privilege" enjoyed by Parliament.
This, he added, could mean some petitions with fewer than 100,000 signatures on a matter of public interest could prompt a debate.
On the number of signatures needed to prompt a petition, the committee's chairman, Conservative MP Charles Walker, said: "What we are minded to recommend is five signatures."
Mr Hague responded: "I would be happy with that if the committee were to recommend that... Petitions are predominantly where there are several people together who want to do something."
He told the MPs that government departments, which are expected to issue a formal response when a petition gets 10,000 supporters, should not take "very long" in doing so.
He added: "A department needs two or three weeks to assemble a good response but doesn't need months to do so. It needs something more than days but something less than months."