Flood defending 'insufficient', NAO warns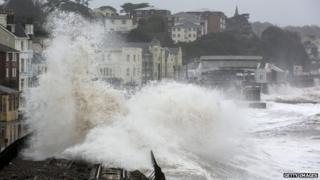 Spending on flood protection in England is "insufficient" to maintain defences, the National Audit Office (NAO) has warned.
It said half of the country's defences were being maintained to a "minimal level", and were likely to "deteriorate faster".
The NAO also said spending on them had been cut in real terms between 2010/11 and 2014/15.
The government said it was spending "more than ever before" on resources.
The Environment Agency said it was making "record levels of investment" in flood schemes.
The report said five million properties were at risk of flooding in December 2013.
The NAO said the agency had improved the cost effectiveness of its flood risk spending, but faced "difficult decisions around whether to continue maintaining some flood defences" or whether to let them "lapse".
As of August 2014, 1,356 flood defence systems, half of England's total, were being maintained to a minimal level, it said.
In areas deemed lower priority - typically because they contained fewer homes - the danger of flooding was increased, but the agency had not set out how prioritising flood defences in certain areas would affect the risk elsewhere, the report said.
Labour MP Margaret Hodge, who chairs the Commons public accounts committee, said: "I am deeply concerned that current levels of spending are not enough to maintain flood protection, with five million homes at risk of flooding and people's livelihoods in jeopardy."
The government made an extra £270m available after storms last winter led to widespread flooding, with 7,700 homes and 3,200 commercial properties in England affected.
But the NAO said in real terms there was a 6% drop since 2010/11.
---
Analysis by Roger Harrabin, environment analyst
Nature doesn't like man made flood defences. Given time, the waves, tides and rivers would nibble away at our sea walls and embankments - and eventually gobble them up and redistribute them through the oceans.
That fact lies behind today's complaints over government policy, because in the laudable process of re-organising flood defence funds to protect the most populous areas, cash has been stripped from existing defences protecting more sparsely populated areas.
The government's many critics - and they are many - say it makes no sense to have built defences but only maintain them at a level that puts the entire investment at risk from a major flood or storm surge. A brick in time saves nine.
Next month the government will brandish details of its six-year plan for new flood defences. But critics fear it won't solve the maintenance issue.
The clash between spending on maintenance and capital spending is a global political issue. Capital projects make headlines to impress voters and are tidily deliverable.
Maintenance is dull, piecemeal, and burdens the taxpayer for ever. Except in the case of flood defences, there is wide agreement that this is money well spent.
---
NAO head Amyas Morse said the Environment Agency had improved how it prioritised spending and achieved value for money.
He added: "However, if we set aside the emergency spending in response to last year's floods, and give due credit for efficiency improvements, the underlying spending on flood defences has gone down."
This was challenged by Flooding Minister Dan Rogerson, who said: "The NAO has drawn conclusions on funding based on inappropriate comparisons.
'On track'
"We have invested £3.2bn in flood management and defences over the course of this parliament which is a real term increase and half a billion [pounds] more than in the previous parliament. This has allowed us to protect 165,000 families and households in vulnerable areas."
A spokesman for the Environment Agency said: "We are on track to reduce flood risk to 165,000 properties between 2011 and 2015 and we will continue to invest in those activities that contribute most to reduce the risk of flooding per pound of funding we receive.
"Following the 2013 spending review we have a long-term, six-year capital settlement to continue to improve flood risk management infrastructure. This will allow us to make record levels of investment in capital projects and with this investment we aim to reduce flood risk to a further 300,000 properties."
Shadow environment secretary Maria Eagle said the government had "no plan for dealing with flooding caused by climate change".
She added: "Ignoring the evidence on climate change has led to the government making the wrong choices.
"It has taken a short-term approach when a long-term one is needed."