UK faces interest charges on EU payment demand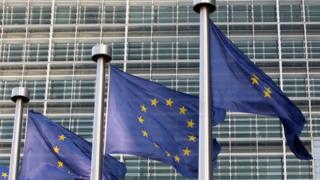 The UK is facing interest charges of more than £3.5m next month if it refuses to make an additional £1.7bn payment to the European Union.
Prime Minister David Cameron has said the UK will not meet the 1 December deadline set by Brussels and has no intention of paying the full amount.
The European Commission said the interest rate for non-payment would increase every month.
But a Treasury source told the BBC the UK may not end up paying any interest.
'Currency survival'
EU finance ministers could agree on Friday - or at a later meeting - to alter not just the total owed but also the process under which interest is charged, the Treasury source said.
Chancellor George Osborne, who is expected to be at that meeting, told BBC2's Newsnight that the UK's relationship with the EU was "not working properly".
He said: "I think it is causing problems for us, because you see essentially a European Union morphing more and more into a eurozone focused on the survival of its currency.
"Now I happen to agree that that's what they need to do, but that does have an impact on the UK.
"And it's perfectly all right for the UK to say, as the big country that's not in the euro, 'this relationship's not working properly for us'."
'Unacceptable' deadline
The £1.7bn bill is based on a calculation of how well the economies of member states have fared since 1995. It would add about a fifth to the UK's net EU contribution of £8.6bn for this year.
The demand generated an angry reaction from Mr Cameron, who said the figure and the deadline were "unacceptable".
The prime minister told MPs the UK would be "challenging this in every way possible".
Following the budget adjustment, some countries, such as France and Germany, are due to get a rebate.
Greece and Cyprus are among the other countries asked to pay a surcharge.
European Commission spokesman Margaritis Schinas told journalists that by law, every member state had to pay what was due by 1 December.
Asked about the possibility of a penalty, he added: "Rather than fines, there is a process of interest being accumulated."
According to calculation methods released by the commission, the UK's interest charge would be more than £3.5m next month if it does not make the payment on time, the BBC's Europe correspondent Chris Morris said.
The amount levied would work out at an average of £114,247 per day for the first month, and if no UK payments were made within the first year, the average interest charged could rise to nearly £250,000 per day over the course of the year.