Claudia Schiffer and the Queen among PM's guests this year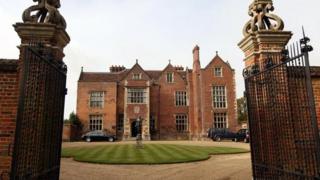 Supermodel Claudia Schiffer and former MI5 head Eliza Manningham-Buller were among the guests at the prime minister's country residence early this year.
The civil service has released the gifts and hospitality registers for ministers from January to April 2014.
David Cameron received a £150 watch from Interpol, and a £279 pair of shoes from designer brand Oliver Sweeney.
Michael Gove, now chief whip, received opera tickets worth more than £1,300.
He was also given football tickets worth approximately £500.
Under civil service guidelines, ministers must declare any gifts they give or receive in the course of their duties.
Gifts priced up to £140 can be kept, but those over £140 must have the margin between that figure and their full price paid by the minister if he or she wishes to keep the gift. If the minister chooses not to pay, the gift is held by the department.
Ms Schiffer and her husband Matthew Vaughn joined American ambassador Matthew Barzun and his wife for dinner with Mr Cameron at Chequers, the PM's official country residence.
The Queen and the Duke of Edinburgh also visited, as did military figures such as Gen Sir Peter Wall and former politicians such as Lord Carrington.
Torah in a box
In addition to the watch and shoes he was given, Mr Cameron also received wine from the Moldovan prime minister, which was used for official entertainment, and a trinket box and coat from the prime minister of Afghanistan, which are currently being held by the Cabinet Office.
Deputy Prime Minister Nick Clegg had to make do with some "food items" donated by Lord Alliance - though they too are currently being held by the department.
A number of other Cabinet ministers also found their gifts withheld due to being over the value limit.
William Hague, then foreign secretary, was given a book by the vice-president of Brazil. Valued at more than £140, it is currently being held by the FCO and its title is not stated on the government's website.
Philip Hammond, defence secretary at the time, was given a watch by Qatar that was "disposed" of by the Ministry of Defence, while Business Secretary Vince Cable was given a pen by the Meydan Hotel that is also still in the hands of his department.
Theresa May's private office is in possession of two paintings and some perfume oil given to her by the Saudi government, gifts valued together at approximately £500.
The home secretary also received various books - including a "Torah in a walnut box" - worth approximately £200 from Dr Viatcheslav Kantor, a businessman and philanthropist who currently serves as President of the European Jewish Congress.
Chancellor George Osborne got a satchel from the Cambridge Satchel Company, but that too remains in the hands of HM Treasury.