UK 'must do more' to tackle aid corruption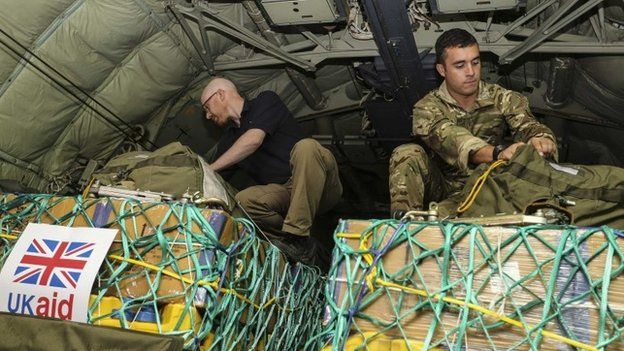 The UK government is not doing enough to tackle "petty corruption" in countries to which it gives aid, a report by a scrutiny body says.
The Department for International Development "has little understanding of what is and is not working" in its anti-corruption efforts, according to the report.
Dfid says it had plans to tackle corruption in each country it funds.
But Labour says the report should "send shockwaves" through the government.
It says Dfid has not "developed an approach equal to the challenge" and is not focusing enough on the poor.
The ICAI gives the department an "amber-red" rating - the second lowest, indicating "significant improvements" were required.
Sir Malcolm Bruce, the Lib Demchairman of the Commons International Development Committee, told BBC Radio 4's Today programme the report made "specific and potentially serious allegations".
He said that "the trouble is you have to use agencies in countries where corruption is endemic, and what the report is saying is that Dfid needs to be much more applied in ensuring that where they are involved that doesn't happen, but much more to the point that they actually use their influence to try to ensure this petty corruption is dealt with".
In its report, ICAI says Dfid "does not fully understand which of its activities are even addressing corruption", does not know how much it was spending on anti-corruption overall, and, in some cases, systems that forced the poor to pay bribes "were perpetuated and not tackled by programmes".
In Nepal, the Local Governance and Community Development Programme ran from 2008 to 2013 and involved Dfid and 12 other partners.
But the ICAI report says: "We heard about citizens needing to pay bribes to government officials or to forge documentation in order to receive funding for projects supported by LGCDP."
The report says that it has concerns that "the general principle that aid should first 'do no harm' had been breached".
Graham Ward, ICAI chief commissioner, said: "We saw very little evidence that the work Dfid is doing to combat corruption is successfully addressing the impact of corruption as experienced by the poor.
"Indeed there is little indication that Dfid has sought to address the forms of corruption that most directly affect the poor: so-called 'petty corruption'.
"This is a gap in Dfid's programming that needs to be filled."
The report said some British aid had "perpetuated" corruption but the government argues that it has a "zero-tolerance approach to fraud and corruption".
But it says that all its plans, while tailored to meet the needs of each country, are based on tackling "the root causes of corruption by building strong institutions and requiring good governance".
It says UK police have investigated more than 150 bribery allegations made against UK companies and people in developing countries - recouping £120m of stolen assets.
The government pointed to several initiatives - including one in Nigeria, where it helped to establish 633 facility health committees to help the poor get access to healthcare without having to pay bribes.
"Additionally, Dfid funds UK police units and crime agencies to investigate the proceeds of corruption by foreign officials through the UK," a spokeswoman said.
"Internationally, the UK is leading the drive to clamp down on corruption through the G20, World Bank and IMF programmes."
But Labour said the report was "damning" and suggested International Development Secretary Justine Greening had been "asleep at the wheel".
Shadow International Development Minister Alison McGovern said: "This is about many of the world's poorest people having to pay bribes for life's essentials - food, water or even safety - setting back the cause of poverty reduction and severely reducing the effectiveness of UK aid."
Conservative MP Philip Davies said it was "ridiculous" that the government planned to "keep on increasing overseas aid spending when the government can't even guarantee that the existing money it spends is being used properly.
"This is why people say overseas aid is taking money from poor people in rich countries and giving to rich people in poor countries," he told The Express.
He added: "Taxpayers' money is being wasted at the altar of middle-class politicians wanting to feel good about themselves."
The executive director of anti-corruption campaign group Transparency International UK, Robert Barrington, said that although Dfid had "a very good reputation" among the international donor and NGO community and is "doing quite well" in tackling corruption, "it needs to take its efforts to a new level to look at the wider operating environment.
"That is politically very challenging and quite a big ask for a government, but honestly if we are going to tackle poverty, it needs to be done."
Related Internet Links
The BBC is not responsible for the content of external sites.