Miliband pledges London-style bus service across England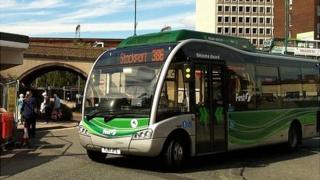 Ed Miliband has promised that a Labour government would grant cities and regions greater powers to improve bus services across England.
The Labour leader said cities and counties should be able to set bus fares and routes and integrate them with local tram and rail services.
He claimed that bus services outside London currently "fail to serve the public interest".
But leading bus operator Stagecoach said the proposal would push fares up.
Labour's plans could mean more Oyster card-style travel outside London. Greater Manchester is already rolling out its "get me there" travel card across its Metrolink trams.
Devolving power
Labour says Mr Miliband's pledge to improve bus provision outside London is part of his plan to ensure that the benefits of economic recovery are felt beyond the capital.
He also pledged further decentralisation of powers to the English regions with an English Devolution Act, and to continue devolving power to Scotland and Wales from Westminster.
The announcement comes as the largest Westminster parties continue to disagree over the question of English devolution in the aftermath of the Scottish referendum.
Earlier this month, former Labour prime minister Gordon Brown clashed with William Hague in the House of Commons over the question of "English votes for English laws".
The Conservatives want to devolve more powers to Scotland but move in tandem to ensure only English MPs can vote on English matters.
Labour is opposed to this, favouring more devolution within England, and has said it will boycott the commission chaired by Mr Hague that is looking into the proposals.
Mr Miliband's promise comes as Chancellor George Osborne is reportedly preparing to announce a deal to devolve additional powers to Greater Manchester, including provisions for a "metro mayor" and greater autonomy in schools and housing policy.
In 2012, Manchester voters rejected a proposal to create a directly-elected mayor.
An official familiar with Mr Osborne's plans told the Financial Times they were the first of a series of initiatives "in the run-up to the Autumn Statement on giving more powers to cities in the north".
Planning ahead
If he were to become prime minister, Mr Miliband says he will chair regular meetings of a new English Regional Cabinet Committee, to be attended by relevant secretaries of state and city and county leaders.
In a speech in Manchester, he said: "For too long, powers to regulate and integrate bus services have been enjoyed only by London.
"For too long, the other regions of England have been unable to plan ahead or join up their transport networks to help secure the prosperity they need."
He said ordinary working people have been let down by the deregulated bus system.
"Labour will legislate so that city and county regions can set fares, decide routes, and integrate bus services with trams, trains and the wider public transport network.
"Bus services and public transport should be the arteries that keep our regional economics moving, our roads less clogged with cars, and working people travelling to where businesses need them.
"We will put the public interest back on our buses."
'Uncosted and unnecessary'
But the chief executive of the Stagecoach Group, Martin Griffiths, said: "This uncosted and unnecessary plan would land people in England's biggest city regions overnight with a tax bill running to hundreds of millions of pounds, as well as leading to higher bus fares."
He added that it was "time politicians stopped peddling the myth that London is best and has a monopoly on good bus services".
He added: "The truth is that England's city regions have significantly lower fares and higher customer satisfaction than London, as well as having access to frequent, integrated bus services and smart ticketing".
Mr Griffiths said Stagecoach and other major operators were already working on extensive plans to deliver better buses and stronger city regions.
"Our plans will provide even better transport integration, more local political engagement and a greater voice for customers," he added.