Home Office minister defends asylum policy from attack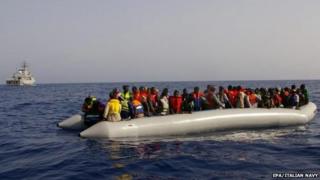 The government's decision to withdraw support for future search-and-rescue operations for migrants in the Mediterranean has come under attack.
Opposition MPs described the decision as "shameful", "a new low" and claimed it was prompted by trying to appear "tough on immigration".
But minister James Brokenshire told MPs the change would "save lives rather than putting them in peril."
About 3,000 migrants have drowned in the Mediterranean so far this year.
That is out of an estimated total of 150,000 to have made the trip by boat across to Europe.
'Unanimous agreement'
Mr Brokenshire said operations to rescue migrants encouraged more people to make the "perilous journey" across the Mediterranean in the hope of being granted asylum.
He said the "despicable work" of human traffickers had made the problem much worse, and must be tackled.
On the new approach, he added it was "inconceivable to suggest that if a boat were in peril, that support would not be provided".
Italian officials have made clear they intend to scale down their government's current operation, known as Mare Nostrum, as the EU introduces a new operation known as Triton.
Triton will focus more on border control - tasks such as vetting asylum seekers once they are ashore, and coastal patrols - rather than search and rescue in international waters.
Mr Brokenshire said that 28 EU member states had "unanimously agreed" to the new proposals, and criticised those attacking the policy for seeking to "politicise" the issue.
Labour's shadow minister, Diane Johnson, accused the government of a "barbarous abandonment of British values".
She said the government's decision had been taken to "distract attention from a failed immigration policy".
She added: "Leaving people to die in their thousands is not the answer."
Labour's Barry Gardiner also voiced his opposition, saying that "in all my years in academic philosophy, I've never heard such sophistry as I've heard from the minister today".
He accused the government of "taking the safety net away from those still falling out of a burning building", while Diane Abbott said the decision was "a new low".
The Lib Dem MP Sarah Teather accused the minister of losing "ethical reasoning."
And on Thursday the United Nations special rapporteur on the human rights of migrants, Francois Crepeau, said that allowing people to die trying to enter Europe just because of "their administrative status" showed "a complete disregard for human life".
Mr Crepeau said that "governments that do not support the search and rescue efforts have reduced themselves to the levels of the smugglers".
He described the UK's announced policy as "appalling...it's like saying: 'Let them die because this is good deterrence'".
But Mr Brokenshire told the House of Commons the "harsh reality" was that the government believed more people were dying under the current policy, in which traffickers take advantage of the vulnerable and send off "less seaworthy boats in greater numbers".