Drugs policy: End 'robotic rhetoric' says minister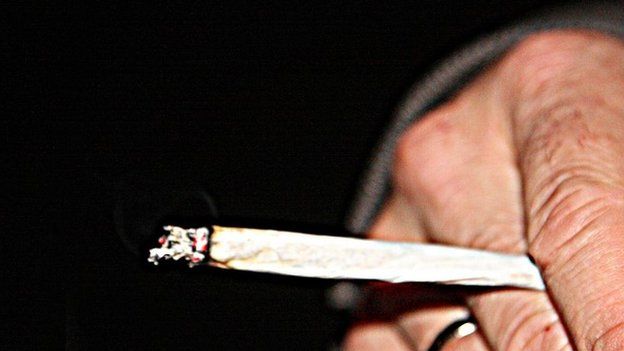 The "genie is out of the bottle" on drugs policy, MPs were told as they backed calls for a review of 40-year-old laws.
Lib Dem Home Office Minister Norman Baker said politicians were out of step with public opinion and called for an end to "robotic mindless rhetoric".
Backbench Conservatives also expressed doubts about current policy but Downing Street said there would be no change.
A report found no obvious link between tough laws and levels of drug use.
The findings of the Home Office report, commissioned by the Liberal Democrats to compare drugs policies in different countries, prompted a row at the top of the coalition.
Lib Dem deputy prime minister Nick Clegg accused his Conservative colleagues of trying to block the report, and of a "totally misplaced, outdated, backward-looking view".
Downing Street in turn accused Mr Clegg of sending "an incredibly dangerous message" and said that drug use in the UK was "plummeting" because of existing policy.
But during the Commons debate brought by Green MP Caroline Lucas, Conservative MPs Robert Syms, Bob Stewart and Zac Goldsmith expressed unease with the current approach.
Mr Syms said: "Contrary to press reports, there are many of us on these benches, the Conservative benches, that believe in evidence-based reform to have a more effective policy in dealing with the scourge of drugs."
Ms Lucas brought the debate noting that current policies are "often counter-productive", urging the government to "consider all the alternatives to the UK's failing drug laws and learn from countries that have adopted a more evidence-based approach" and calling for an independent review of the existing Misuse of Drugs Act, introduced in 1971, within the next 12 months.
She has said she worded it to be as uncontroversial as possible, and it was backed by Labour's Bob Ainsworth and Lib Dem Julian Huppert.
It was passed, unopposed, by MPs, but will not be binding on the government.
Ms Lucas told MPs that "fear of the tabloids" had driven UK drug policy for decades.
She said successive governments had consistently refused to take an "evidence-based approach" out of "fear of the tabloids", while Labour's Paul Flynn said drug policy since 1971 had been "evidence-free and prejudice-rich".
The Liberal Democrats' Julian Huppert claimed public opinion was turning in support of drug policy reform, and said that now "lots of newspapers are coming out in favour". Conservative Stephen Phillips said MPs were regarded as "dinosaurs" on the issue by young people.
But Conservative MP Sarah Wollaston, chairman of the Health Select Committee and a former GP, said that it was "factually incorrect" to say the UK was losing the war on drugs, adding that drug use was falling, thanks to the government's policy.
She added: "I don't have any moralistic view on taking drugs other than the fact that I object to people supporting one of the most evil businesses and cartels worldwide.
"It always surprises me that people who would perhaps object to buying coffee in Starbucks and would refuse to support Amazon are quite happy to support these cartels that cause untold misery to hundreds of thousands of people around the world."
Conservative Crispin Blunt, who was a junior minister in the Ministry of Justice, said it was a "big step forward to even get the government to say what the international comparators are".
He told MPs Mr Cameron's government "plainly" felt it would get a "kicking" from the tabloids, if it considered moving away from tough drugs laws.
For Labour, shadow Home Office minister Diane Johnson said it was "important not to have a one-sided debate and just say everything's failed". She also argued that there was much evidence to suggest that the policies pursued by successive governments had worked to reduce drug abuse.
But she was criticised by Labour backbencher Diane Abbott, who told her: "When you say that the status quo isn't failing I don't know what world you are living in. It is failing young people in London."
At the end of the debate Mr Baker announced that the government was amending regulations to make the drug Naloxone more widely available - to try to prevent prisoners overusing heroin on their release and dying.
He said he hoped the Commons debate would be the start of a wider debate on drugs policy. "The genie is out of the bottle and is not going back in. The days of robotic. mindless rhetoric will no long do," he said, adding that the evidence would not allow it.
Ms Lucas said at the close of the sometimes-sparsely attended debate, that her only regret was that MPs who were not convinced of the arguments to change existing policy were not in the chamber to hear them.
Thursday's debate was granted by the Commons Backbench Business Committee - after an e-petition calling for an impact assessment of drugs laws was signed by 135,000 people.