Reasons to be cheerful from Iain Duncan Smith?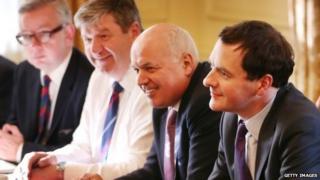 Borrowing may be up, immigration rising and the number of foreign prisoners stubbornly high.
But whisper it quietly: the government's plan for a new universal credit is no longer causing quite so many red faces around Whitehall.
Iain Duncan Smith's pet project to bundle six benefits into a single credit is designed to make welfare simpler and cheaper by removing disincentives to work.
It has been plagued with doubts about the computer system needed to process so much real-time information, the reports of poor management and waste, and the high turnover of men in charge.
But what was once an issue of embarrassment for the government, a Whitehall blame game that pitted Treasury and Cabinet Office against Work and Pensions, has now become an unexpected source of optimism.
Detail
Let me put it this way. Normally what happens is that a watchdog or a think tank writes a robust report saying universal credit is off-track.
This prompts a furious response from the DWP and an even stiffer missive from Mr Duncan Smith himself.
An embarrassed silence and shuffling of feet then ensues in Whitehall during which everyone mutters about how Iain had promised them it would work even if they hadn't quite understood all the detail.
But now the work and pensions secretary is flinging open the doors of his headquarters near Westminster Abbey to give briefings to passing hacks about how universal credit is not just on-track but forging ahead.
Officials are shoved blinking into the light to hail the progress being made. Glossy reports are published packed with such optimism that would make even Dr Pangloss blush.
Mr Duncan Smith's case is based on claimant surveys, anecdotal evidence and his usual unshakeable confidence. He claims that the signals from those already claiming universal credit suggest that they are moving into work more quickly, they are staying in work for longer and they are earning more money.
'Very sensible'
Claimants are also saying it is easier to look for work and easier to claim in the first place. Mr Duncan Smith says that word of mouth is spreading this good news. "Don't stay on that complicated tax credit," one claimant is telling another. "Get stuck into this new universal credit thing because it means you will be able to take on a few hours' work without risking your benefits."
He says businesses are now going to job centres and asking to hire universal credit claimants because they can be more flexible about the hours they work. And he talks breezily of a hoped-for £7bn in annual savings as 300,000 households find work.
Clearly that optimism is catching. Others around government appear similarly upbeat in ways they once were not. The government's internal watchdog, the Major Projects Authority, and the Treasury have now signed off the universal credit business plan.
One source in the Treasury told me: "We think it is now in a very sensible place. And the UK-wide roll out for single people this side of the election is very exciting. Early results from the pilots are very encouraging."
And although Labour remains critical of the way universal credit is being implemented, it is careful to make clear that it wants the new scheme to work.
Shadow work and pensions secretary Rachel Reeves wrote on a blog yesterday: "The principle of universal credit is a good one that could bring real benefits to claimants, communities and taxpayers."
Hope
But - and with universal credit there is always a but - there are still some pretty big questions.
The DWP had promised originally that a million people would be claiming universal credit by April of this year. The actual figure right now is just over 14,000.
It is promising that figure will rise to 100,000 by May 2015, then 500,000 by May 2016, with all new claimants automatically being put on universal credit by the end of 2017.
The problem is that there are almost eight million people claiming benefits in the UK and it is still not clear when they will move over to universal credit.
Mr Duncan Smith says he is still hoping most will make the move before the end of 2018. But the official documents refer only rather obliquely to this happening in the "long term once fully rolled out".
Now this slower implementation matters not just to the millions of people who will see the way they claim their benefits change, but it also matters to George Osborne.
Universal credit is supposed to save £35bn over a decade and that is money the chancellor needs on tap and on time to help eliminate the deficit.
And as I said at the beginning, borrowing has just gone up.