Universal credit rolled out by 2018, Iain Duncan Smith says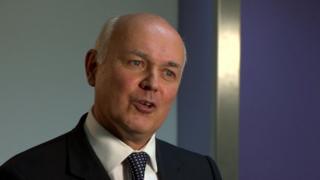 Most benefit claimants will have transferred onto the government's universal credit scheme by the end of 2018, Work and Pensions Secretary Iain Duncan Smith has predicted.
A Department for Work and Pensions report said there were "encouraging" early results from pilot projects.
The credit, which merges six working-age benefits into a single payment, is being phased in across the UK.
Labour said Mr Duncan Smith had "broken his promises" on delivering the scheme.
Universal credit combines income-based jobseeker's allowance, income-related employment and support allowance, income support, child tax credit, working tax credit and housing benefit in an attempt to make welfare simpler, reduce fraud and get more people into work.
It has initially been introduced in north-west England.
'Secure delivery'
The DWP originally promised to have one million people on universal credit by April 2014, but the project has been delayed a number of times since its creation and MPs have criticised the way it has been managed.
The report presented by Mr Duncan Smith said 14,170 were claiming the credit, which is expected to rise to 100,000 by May 2015 and 500,000 by May 2016.
On the ambition to transfer all 7.7 million claimants by 2017, Mr Duncan Smith said: "That's our belief at the moment under the system that we are running."
However, he added: "Arbitrary dates and deadlines are the enemy of secure delivery."
The report said the scheme would boost the economy by £7bn a year once it is up and running and an estimated 300,000 households have found work.
It also said a survey of 900 claimants suggested people worked more and spent more time looking for work.
And under plans being considered by the DWP, claimants could be told to explain why they have not taken more hours of work if they are offered.
'Extremely worrying'
In the foreword to the report, Mr Duncan Smith and welfare reform minister Lord Freud said: "As we deliver this great reform, we are delivering life change for people, setting them on a path from dependence to independence."
The DWP also published an analysis comparing people who were moved to universal credit to those who carried on claiming jobseeker's allowance as before.
It said the figures were "a useful early indication that UC (universal credit) claimants might be responding positively".
Labour has said it will "pause" the implementation of the scheme, which it supports in principle, to allow for a National Audit Office review of its implementation.
Chris Bryant, shadow welfare reform minister, said: "Today Iain Duncan Smith promised 100,000 people will be on universal credit by May 2015. But that's only around 1% of the total number of people who are expected to claim the new benefit."
He added that £130m had "already been wasted by ministers on universal credit and today's announcement confirming further delays to the government's flagship welfare reform is extremely worrying".
Frances O'Grady, the general secretary of the Trades Union Congress, criticised the amount of time new claimants had to wait before getting any money under universal credit.
She added: "By forcing people to wait weeks for cash support when bad luck strikes, the government is attacking the safety net that we all pay into from our earnings."