Nigel Farage fined £200 over office space declaration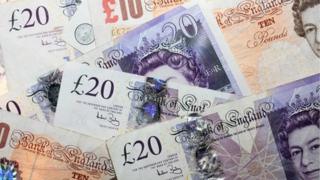 UKIP leader Nigel Farage has been fined £200 by the Electoral Commission, while the Conservative Party has forfeited an "impermissible" £28,000 donation.
Mr Farage's fine relates to the failure to declare donated office space worth £3,800 per year.
The Electoral Commission said the breach dated back to 2001 but saw "no intent to hide the donations" and said the fine had been paid.
The cases were published in the watchdog's monthly update.
The commission said it had taken into account that Mr Farage had correctly reported the office donation to the European Parliament.
But it should also have been reported to the commission as a "regular non-cash donation", it said.
Meanwhile the donation to the Conservatives, from Henley Concierge Limited, based in Henley-on-Thames, was forfeited in full after an investigation by the commission.
The commission said it was "not satisfied that the party could be certain the company was carrying on business in the UK, which is a legal requirement for a political party to accept or retain a donation from a company".
It added: "The company has not filed recent accounts with Companies House or demonstrated otherwise that it was carrying on business at the time the donation was made."