Ken Clarke: Some Eurosceptic Tories should be in UKIP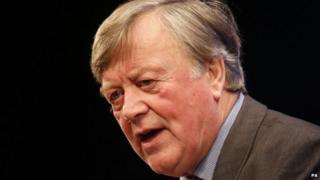 Former cabinet minister Ken Clarke has said some of his Eurosceptic Conservative colleagues should be in UKIP.
Mr Clarke said there was "a wave of almost hysteria" about immigration and warned Prime Minister David Cameron against "competing with ignorance and bigotry".
The PM says he will "fix" the issue of EU migrants coming to work in the UK.
He is to announce more plans to curb the numbers by Christmas.
It comes after he was warned by outgoing European Commission Chairman Jose Manuel Barroso that an "arbitrary cap" on EU migrants would be illegal.
Speaking on BBC Radio 4's Today programme, Mr Clarke, who left the government in the reshuffle in July, said there were plenty of Conservatives who shared his pro-European views.
'The boss'
But, he said, "we do not get the amount of exposure in the right wing popular press which some of my noisy members - who I have always thought some of them should be in UKIP rather than our party - seem to get".
Mr Clarke said a section of the population was "bigoted and anti-foreigners" and that some politicians "arouse prejudice", but: "Most people, particularly young people, understand that we're in a global economy, you get used to people who don't speak your language, and you do meet people who are foreign."
The former chancellor said he was not surprised that Conservative MPs Douglas Carswell and Mark Reckless had defected to UKIP, and said the Conservatives should be "a strong and sensible party" that does "sensible things on immigration".
Mr Cameron has said the relationship with the EU will be reformed ahead of an in/out referendum, to be held by the end of 2017, if his Conservative Party gains a majority.
It has been reported that the UK could seek an "emergency brake" to stop EU migration after it reached a certain level or to limit the number of National Insurance numbers issued to new arrivals from the EU.
On Monday, the prime minister said: "I'm very clear about who the boss is, about who I answer to and it's the British people. They want this issue fixed, they're not being unreasonable about it and I will fix it."
The level of net migration stands at more than twice the government's target of 100,000 a year.
UKIP says there is no way of limiting European migration while the UK remains an EU member.
The party's only MP, Douglas Carswell, said Mr Cameron was wrongly seeking to "pretend you can remain in this club and control who comes into the country".
Shadow foreign secretary Douglas Alexander said Mr Clarke's comments showed "just how far David Cameron has been pushed by his own backbenchers when it comes to Europe".
He added: "The truth is that David Cameron's weakness is now putting jobs and investment in Britain at risk by talking up the threat of exit instead of actually working for reform."