House of Lords agrees to make revenge porn a criminal offence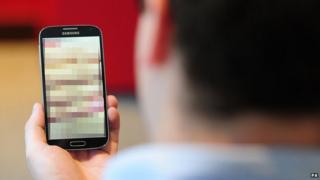 The House of Lords has agreed unanimously to make "revenge porn" a criminal offence in England and Wales.
The sharing of a private sexual image of someone without their consent and to cause distress will be punishable by up to two years in prison, Justice Minister Lord Faulks said.
The change to the Criminal Justice and Courts Bill covers sharing of physical and online copies, and text messages.
MPs must approve the plans before they can become law.
'Distraught'
According to information from eight police forces in England and Wales which kept data on this issue, there were 149 allegations of revenge porn made in the past two and a half years.
Lord Faulks said the disclosure of revenge porn was "extremely distressing" and left victims feeling "humiliated and distraught".
A new offence was needed to "punish this pernicious practice" and provide "an important means of redress for victims of this cruel behaviour", he said.
For Labour, Baroness Thornton welcomed the government's move as a "positive step".
Liberal Democrat Lord Marks of Henley-on-Thames said this "thoroughly nasty behaviour" caused "untold distress and humiliation" for victims.
The changes made to the Bill by the Lords, without need for a vote, go before the House of Commons at a later date.
Victims of revenge porn have often found it difficult to have pictures removed from the internet. Many sites where the images are hosted are based outside the UK, and requests to remove content are often ignored.
In some cases, asking for removal results in more attention being brought to the images.
Previously, without specific legislation, some victims of revenge porn have sought legal workarounds to have images taken down - most commonly the use of copyright law.
If an intimate picture has been taken as a "selfie", the image's copyright belongs to the taker.
If passed into law, the Criminal Justice and Courts Bill will define revenge porn as "photographs or films which show people engaged in sexual activity or depicted in a sexual way or with their genitals exposed, where what is shown would not usually be seen in public".