MPs back 'recall' powers for voters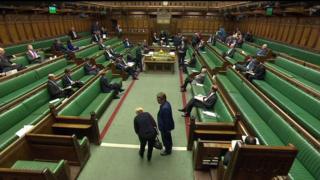 MPs have backed plans to allow themselves to be sacked using a "power of recall" if they are found guilty of serious wrongdoing.
The government says an MP should be unseated if 10% of voters sign a petition, after the MP is jailed or given a prolonged Commons ban.
MPs backed the plans, also supported by Labour, without the need for a vote.
But critics had argued it should be easier still to get proceedings against unpopular politicians going.
The plans will go through further, more detailed discussion at a later debate, during which amendments can be suggested.
Introducing the "power of recall" - allowing voters to force a by-election when MPs have been found guilty of wrongdoing and 10% of his or her constituents have signed a petition calling for their removal - was one of the promises in the 2010 coalition agreement between the Conservatives and Liberal Democrats.
'Minimum acceptable'
Recall is used in several countries, including the US, where actor Arnold Schwarzenegger became California Governor after Gray Davis was unseated in 2003.
But, unlike the system used in California, under the coalition's plans an MP could not be ousted simply because they are unpopular.
Cabinet Office minister Greg Clark told MPs: "We are, in this matter, breaking new ground in terms of our constitution. It seems that the traditions in this House and in our country is that we proceed with care when making constitutional changes."
Currently, a prison sentence of more than 12 months already automatically means an MP must go.
Alternative plan
The government's plans would require the imposition of a prison sentence of up to 12 months or a ban from the Commons lasting more than 21 sitting days before a petition could be set up.
Mr Clark said the Recall of MPs Bill aimed to address cases like that of Chris Huhne, the former Liberal Democrat cabinet minister who quit the Commons after being jailed for eight months for perverting the course of justice.
He was not forced from office under the current rules and could have kept his seat until the next election had he chosen to do so.
Mr Clark said: "The fact it was a choice rather than compulsion is the loophole this bill seeks to avoid."
Commons bans are handed down by the Commons Standards Committee, which is mostly made up of MPs. There are concerns that the government's plan leaves too much power in the hands of parliamentarians - rather than the public - to decide the fate of colleagues.
The petition would be open for eight weeks and, if by then 10% of eligible voters have signed it, the seat would be declared vacant and a by-election called.
Labour backed the bill, although shadow constitutional reform minister Stephen Twigg said his party would look to strengthen the legislation as it proceeded through Parliament.
He said: "We need a system that improves accountability and one that gives more power to the public to hold their representatives to account between elections. That, I think, is a matter of fairness."
Conservative backbencher MP Zac Goldsmith has devised a rival plan, which he says will give constituents more power. He wants MPs to be recalled if 5% of voters in a constituency sign a "notice of intent to recall" and 20% then sign a "recall petition".
He told the Commons: "Under these (government) proposals it would still be possible for an MP to switch parties, to refuse to attend Parliament, to disappear off on holiday, to break every conceivable promise made before the election without qualifying for recall.
"And the public will discover at the very first scandal that they've been misled."
So far 68 MPs from all parties, including prominent Conservatives and Labour backbenchers as well as UKIP MP Douglas Carswell and Green MP Caroline Lucas, have backed Mr Goldsmith's version.