Equal parental leave pay for Civil Service staff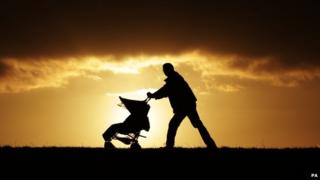 All Civil Service employees will be entitled to full parental pay from April 2015, Deputy Prime Minister Nick Clegg will announce this week.
Currently, only mothers are entitled to full pay when a couple choose to share parental leave.
The changes will enable more fathers to spend time caring for their new-born children, Mr Clegg will say.
The deputy PM will say he hopes the Civil Service reforms will "blaze a trail" for other employers to follow.
It follows an announcement last year in which the government said that from April 2015 parents will have a fully flexible choice over how they split their 52 week parental leave entitlement - other than the first fortnight, which the mother must take.
'Radical reforms'
Additional Parental Leave was introduced by the coalition government in 2011, in which extra leave was given to employed fathers if the mother returned to work and was not claiming statutory maternity pay.
However, figures obtained this summer by shadow childcare minister Lucy Powell showed that fewer than one in 50 new fathers were using their right to extra paid time.
The changes to the Civil Service pay arrangements will allow more fathers to be able to afford to take time off to care for their children, Mr Clegg is expected to say in a speech.
"For me, it's critical that people who choose to work in the public sector know that they're working in modern, progressive workplaces. That is why I think it's also important we do more to support public sector workers balancing their home and work lives," he will say.
"To help get that revolution started in the public sector, working with the Cabinet Office, I've been pushing hard for radical reforms to the way in which the Civil Service pays and supports its staff after their children are born.
He will add that he wants to see the changes "blaze a trail for other public and private sector organisations to follow - making this option the norm for more working families and increasing the opportunities available to both sexes to earn and care across our society."