Tories reject UKIP by-election phone call claims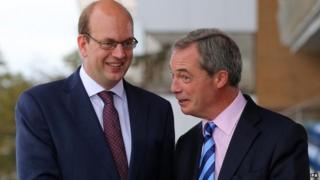 The Conservative Party has denied it is behind "negative" phone calls about UKIP's candidate in the Rochester and Strood by-election, Mark Reckless.
Mr Reckless, who defected from the Conservatives, said someone claiming to be from a polling company had called him - and that he suspected it had been "commissioned" by his old party.
Conservative chairman Grant Shapps said this was "absolutely not" the case and challenged UKIP to provide evidence.
The by-election is on 20 November.
Mr Reckless told the BBC's Sunday Politics programme: "There are actually phone calls being made and I received one myself from a lady called Lucinda calling from what they claimed to be an independent company, but I suspect it was commissioned by the Conservatives."
According to Mr Reckless, the callers "insinuate one or two negative thoughts in people's minds about me".
UKIP leader Nigel Farage told the programme the Conservatives were "resorting already to very low grade tactics... phone calls being made calling Mark all sorts of things".
Asked whether the Conservatives were involved, Mr Shapps told the programme: "Absolutely not and furthermore we've said to Mr Reckless, if you've got any evidence of this please hand it over.
"But there is none at all."
Mr Shapps also responded to UKIP calls for the cost of running an "open primary" vote to choose their candidate to be deducted from the £100,000 parties are allowed to spend on their campaign.
Electoral rules say the spending limit applies after a candidate is confirmed.
The Tories previously dismissed UKIP's comments as a "media stunt".
Mr Shapps said: "You can only fire off an election expense once you have a candidate in place."
He added: "It's absolutely straightforward, there is no dispute about it."
---
The full list of candidates announced so far, in alphabetical order by surname, is:
Gregory, Clive - Green Party
Fransen, Jayda - Britain First
Juby, Geoff - Liberal Democrats
Khan, Naushabah - Labour
Reckless, Mark - UK Independence Party