Citizens Advice to provide free pensions guidance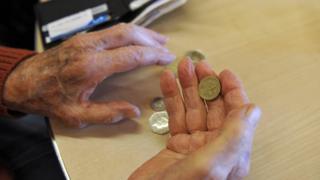 Citizens Advice is to provide free guidance following the government's announcement of new pension rules.
Face-to-face advice will be offered to pensioners at bureaux across the UK, Chancellor George Osborne said.
The Pensions Advisory Service (TPAS) will also provide free and impartial advice over the telephone.
The rules make it easier for people to dip into their pension pots when they want, and to leave their unused pension funds to others, at lower rates of tax.
The services will come in from April.
Mr Osborne said: "Giving people the freedom to manage their own pension is the backbone of this government's radical pension reforms and key to our long-term economic plan.
"These organisations have years of experience dealing with a variety of consumer issues and are well placed to be accessible to everyone who reaches pension age and feels they would benefit from the guidance."
'Vital issues'
Pensions expert Dr Ros Altmann said the free guidance would be a "big step forwards" in ensuring the pension overhaul announced in the Budget would have a "meaningful impact on pension savers".
She added: "It is clear that, currently, most people saving for a pension don't understand all the vital issues, and it's really important that they receive impartial help to make the best decisions for themselves.
"Both The Pensions Advisory Service and Citizens Advice have long-standing experience in helping the public with financial issues; and it is really important that people do trust the scheme, otherwise they remain at risk of stumbling into poor decisions."
Citizens Advice chief executive Gillian Guy said the right guidance could be the key to a financially stable retirement.
"People who have diligently saved year after year towards their retirement deserve to choose how to make the most of their pension pot and good guidance is central to helping people make the right decisions for them."