Cameron faces Tory 'storm' over European Arrest Warrant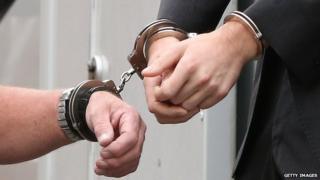 The Conservatives are facing a Commons revolt over the European Arrest Warrant as they prepare for the Rochester by-election. How much damage could it do?
A storm is coming that will make other EU rebellions look like a squall. That is the warning from the Conservative backbencher Dominic Raab.
It is set to break just before, or just after, the Rochester and Strood by-election on 20 November. That is a miserable forecast for a party battling UKIP.
At issue is the European Arrest Warrant. It allows the quick extradition of suspects around the EU.
To the police - and the Home Secretary Theresa May - it is a vital tool. To its critics - which number plenty of Tories - it is a threat to the liberties of Britons, and the sovereignty of the UK.
The UK must decide by December whether to continue using the European Arrest Warrant, and whether to opt in to more than thirty other EU criminal justice measures.
There would be a vote in the Commons beforehand.
'Democratic control'
Mrs May wants to stick with the Warrant, and the other measures, but many of her colleagues do not.
The chair of the 1922 committee of Conservative backbenchers Graham Brady - an influential figure in Tory politics - told BBC Radio 4's World at One: "I feel very strongly we ought to be bringing powers back to the United Kingdom, back to British democratic control.
"We shouldn't be ceding powers to European institution. I think it sends a message which is really very unhelpful."
That is the crux of the political objection: a Conservative party committed to clawing control back from Brussels is, in the eyes of some of its backbenchers, set to surrender power in the crucial area of criminal justice.
Some believe the Conservative leadership could face a rebellion so big ministers will have to rely on Labour votes to defeat their own backbenchers.
One of those backbenchers - Dominic Raab - introduces the meteorological metaphor.
He says: "I think that if we don't have a clear line consistent with our wider strategy it will be a storm to make our other EU rebellions look a bit like a squall."
The rebels believe they have political good sense on their side.
One says that faced with the UKIP threat anyone in a marginal seat would be "crazy to vote to give Romanian magistrates the power to detain their constituents".
And they suspect they may even be able to change the government's position before they get to a vote.
Whip talks
The Spectator has reported that the Chief Whip Michael Gove had asked MPs how they'd feel if the government didn't opt back in to the European Arrest Warrant.
MPs confirm the story and say junior whips have put the same question to several MPs.
Downing Street sources insist the government position has not changed. Whips - whose job it is to keep order among MPs - talk to backbenchers all the time, they say.
They stress the government has permanently opted out of 100 EU criminal justice measures and the home secretary has changed the law to try to stop other EU countries extraditing British citizens for trivial reasons.
And unhappy Conservative backbenchers do not have this argument all their own way.
Former Conservative Home Office minister Damian Green argues the warrant is all "about keeping our streets safe". "The fact is without the European Arrest Warrant it would be easier to commit murder, rape, child sex abuse, really serious crimes and then flee to other European countries and escape from British jurisdiction," he says.
Labour and the Lib Dems also support the Warrant.
The shadow home office minister David Hanson says: "Reform is needed, but ditching it altogether will simply allow criminals to get off."
Police concerns
The police tend to agree.
In a statement, the ACPO President Sir Hugh Orde says: "It is ACPO's view that the European Arrest Warrant gives us a stronger, more effective means of arresting dangerous criminals across borders and thus keeping our communities safe at home - it is not an instrument which we can afford to lose."
But Dominic Raab says that without the Warrant extraditions would still take place.
And there is little sympathy for those police warnings from the Conservative backbencher Nick de Bois. He says: "We're in a democracy. We're not run by the security chiefs and we the parliamentarians have to make the decision."
With the Rochester and Strood by-election campaign in full flow, this is ill-timed for the Conservatives and room for compromise looks limited.
Ministers could decide to perform a u-turn that will enrage those "security chiefs", their Lib Dem colleagues and leave them open to an opposition charge that they have gone soft on crime.
Or they could choose to stick by their position and face a difficult row with backbenchers over EU powers amid a defining scrap with UKIP.
Whatever their choice, the political storm that Dominic Raab anticipates is on its way.