Government drops plans to axe Victorian pedlar laws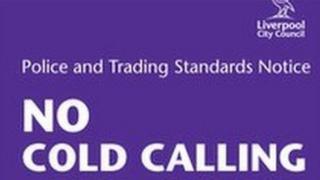 Ministers have dropped plans to scrap Victorian rules covering pedlars and door-to-door salesmen.
The Pedlars Acts had been described as "archaic" by minister Jo Swinson, who hoped that getting rid of them would boost enterprise and cut red tape.
But salesmen said they gave them legitimacy while councils and police worried there would be a "free-for-all" without them.
Instead they will be amended to comply with EU rules, the government said.
The Pedlars Acts 1871 and 1881, which apply to the whole UK, requires those who wish to "peddle" - travelling by foot and selling goods door to door and place to place - to first get a certificate.
The current legislation requires pedlars to prove they are of "good character", over 17 years old and have been living locally for at least one month before police will grant them a 12-month licence.
'Menders of chairs'
The government had suggested repealing them, because the residency requirement discriminated against traders from other EU states.
But traders and councils warned that removing the requirement for a trading certificate would lead to a "free-for-all."
On Thursday, Ms Swinson confirmed she no longer intended to scrap the Pedlars Acts applying to mobile traders. The 1871 Act's definition includes "hawkers," "tinkers" and "menders of chairs".
Instead, they will be tweaked to comply with EU rules and to include a more uniform system across the UK for deciding whether an applicant is of "good character".
In a written statement to Parliament, Jo Swinson said: "The responses from pedlars showed that they regard the Pedlars Acts as the source of their legitimacy and they were adamant that they should not be repealed but instead the certification process amended.
"Local authorities, police forces, market traders and their associations all thought it essential that pedlars should continue to be certified.
"The government therefore intends to make the minimum changes required to bring the regime into compliance with the [EU] Services Directive."