Ministers 'should have tackled housing benefit fraud sooner'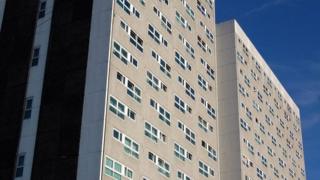 The government has been criticised for not increasing its efforts to tackle housing benefit fraud "sooner".
The National Audit Office said overpayments due to fraud and error had risen from £980m to almost £1.4bn between 2010-11 and 2013-14.
It added that the Department for Work and Pensions faced an "escalating problem", accepting that housing benefit was "difficult" to administer.
But the department said money lost to fraud and error was falling.
It added that, because of a new detection system to cross-check claims against earnings more quickly, the cost was expected to decrease further.
'Early stages'
Housing benefit goes to five million households on low incomes.
Total payments in 2013-14 were £23.9bn. This included £900m in overpayments due to claimant error, £340m due to fraud and £150m due to errors by officials.
The NAO said: "The Department for Work and Pensions should have increased its focus on housing benefit fraud and error sooner."
In its report, it said the DWP had not established clearly enough how responsibilities for tackling fraud were divided between it and local authorities.
'New strategy'
NAO head Amyas Morse said: "Housing benefit is a difficult benefit to administer and, against a background of unclear responsibilities and limited investment, it is unsurprising that total overpayments have increased. The Department for Work and Pensions is facing an escalating problem.
"The DWP has recognised the need to do more and has been developing a new strategy. As these initiatives are in the early stages, it is too early to know whether they are working. However, the department will need to show that it is tackling problems with local authority incentives and targeting major areas of loss."
The government has introduced a system allowing the DWP to access "real-time information" from the Treasury about people's earnings and pensions incomes.
This, it says, will allow immediate up-to-date checks on whether people are eligible for housing benefit.
'Nowhere to hide'
Work and pensions minister Mark Harper said: "People cheating the system are fast discovering that they have nowhere to hide. We know it's a small minority who commit fraud but we will use everything in our power to stop and punish those who steal from hard-working taxpayers."
‪He added: "Money lost through fraud and error is falling overall and we are recovering more of it than before 2010 - recouping £1.3bn last year.
‪"But we know there is more to do to crack down on benefit fraud; this month we have brought in a new detection system that will cross-check all housing benefit claims against up-to-the-minute information on earnings and pension income."
For Labour, shadow secretary of state for work and pensions Rachel Reeves said: "David Cameron's failure to make work pay is leaving thousands more working people relying on housing benefit and is set to cost taxpayers £12.9bn. A Labour government will control social security costs by tackling the root causes of rising spending in low pay and a lack of affordable homes.
"Labour will raise the minimum wage, introduce living wage contracts and get 200,000 homes built a year by 2020 to tackle the housing benefit bill and ensure working people can make ends meet."