Freud: Pressure continues over disability pay comments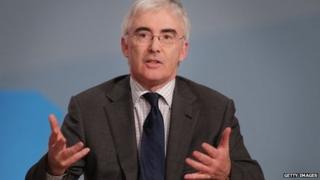 Pressure continues on a Conservative minister who was recorded saying some disabled people were "not worth" the minimum wage.
Labour's Angela Eagle said the words would "haunt this government until Lord Freud resigns" and suggested the prime minister was "too weak to act".
Nick Clegg said it was offensive but did not call for his resignation.
Lord Freud apologised in a statement but it is understood he has pulled out of a Lords debate on Thursday.
Shadow Commons Leader Ms Eagle suggested he had been "mysteriously pulled" from the debate and demanded that he make a statement in person "sooner rather than later".
'Secretly agree'
She said Lord Freud's comments were not "an unfortunate slip of the tongue" but "revealed the truth about this government's attitude to people with disabilities".
Commons Leader William Hague said it was right that Lord Freud had "apologised unreservedly" but said the government should be judged on its record - adding "overall spending on the main disability benefits will be higher in every year to 2018 than it was in 2010 and that the number of disabled people in work is now 70,000 higher than it was at the end of the last government".
He added that the prime minister was "never weak" and had a dig at Labour leader Ed Miliband, suggesting he was "not even bold enough to carry out his own bold plan to be bold" - having reportedly cancelled a reshuffle of Labour's front bench.
It follows a row at Prime Minister's Questions about the comments, recorded at a Conservative Party fringe event, a transcript of which was circulated by Labour on Wednesday.
Lord Freud was recorded responding to a councillor who said that some "mentally damaged individuals" who wanted to work were unable to do so because employers would not pay them the £6.50-an-hour minimum wage.
Top-up payments
The minister reportedly said there "was no system for going below the minimum wage".
But he added: "You make a really good point about the disabled ... There is a group - and I know exactly who you mean - where actually, as you say, they're not worth the full wage and actually I'm going to go and think about that particular issue, whether there is something we can do nationally, and without distorting the whole thing, which actually if someone wants to work for £2 an hour, and it's working can we actually..."
Asked about the remarks on his LBC Radio phone-in show, Call Clegg, the Lib Dem deputy prime minister said that there was a "legitimate debate" about making sure people with disabilities are "given as fair a chance as anybody to work".
But he added: "I think what was so offensive to people about the remarks recorded at the Conservative Party conference that Lord Freud made was when he used the word 'worth'. I think that's what, quite rightly, touched a raw nerve because it is making a comment about someone's individual value."
He added: "That was deeply distressing and offensive to people".
Department for Work and Pensions sources said that Lord Freud will not resign and was not advocating working for less than the minimum wage, he was looking at whether the state should top up to those levels, if employers paid less - something that is not government policy.
The former banker who also advised the previous Labour government, has been a minister in the Department for Work and Pensions since 2010, offered a "full and unreserved apology" in a statement on Wednesday.
"I was foolish to accept the premise of the question," he said.
"To be clear, all disabled people should be paid at least the minimum wage, without exception, and I accept that it is offensive to suggest anything else."