UKIP queries Tory by-election spend in Rochester and Strood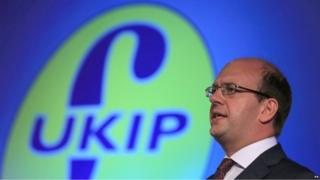 The UK Independence Party says it has written to the Conservatives to ask how they will meet campaign spending limits at next month's Rochester and Strood by-election.
UKIP candidate Mark Reckless said the cost of the Tories' "open primary" vote should count towards the £100,000 cap.
A Conservative Party source said it was "yet another media stunt" by Mr Reckless.
Electoral rules say the spending limit applies after a candidate is confirmed.
The by-election, triggered by Mr Reckless resigning as an MP after switching from the Conservatives to UKIP, will take place on 20 November.
The Tories are allowing anyone in the constituency to vote by post to select one of two potential candidates - marine surveyor Kelly Tolhurst or former barrister Anna Firth.
Mr Reckless said his new party had written to the Conservatives on Wednesday - ahead of the first hustings event between the two potential candidates - to question how their budget would remain inside the limit.
UKIP's legal advice, he said, suggested the estimated £40,000 cost of the open primary should be included in the expenditure limit.
"It is our view that this is an election expense," he told BBC News. "Spending 40% on an internal party contest will surprise some."
According to the rules, set by Parliament, the limit applies during the "regulated period", which begins "on the day after the date you formally become a candidate and ends on the date of the poll".
The Conservative source said: "This is yet another media stunt by Mark Reckless, who refuses to engage with the serious job of representing Rochester and Strood."
---
The full list of Rochester and Strood candidates announced so far, in alphabetical order by surname, is:
Gregory, Clive - Green Party
Juby, Geoff - Liberal Democrats
Khan, Naushabah - Labour
Reckless, Mark - UK Independence Party