Whitehall reform gives PM new choice in appointments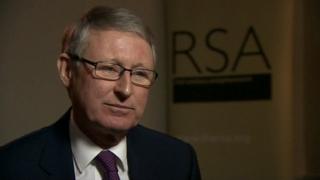 The prime minister is to be given a selection of candidates from which to choose the heads of Whitehall departments, under plans drawn up by the Civil Service watchdog.
Previously, the PM was presented with a single name drawn up by a panel, which he could either approve or reject.
The new procedure will apply to around 25 senior positions.
All three main Westminster parties have given assurances that appointments will continue to be based on merit.
Earlier this year the Commons Public Administration Committee said offering prime ministers a choice of candidates risked decisions being made for reasons other than their ability to do the job.
Under the new system, the prime minister will be presented with a choice of those deemed "appointable" and a summary of their individual strengths and weaknesses.
'Wide consensus'
The decision was announced by the first civil service commissioner, and former permanent secretary at the Department for Education and the Home Office, Sir David Normington.
In a statement, he said: "We have been cautious about this change - and remain so - but now believe that with important safeguards this change is possible."
Sir David said the Civil Service Commission had "long accepted the need for ministers to be fully involved in the competitions for the most senior posts in their department".
"We recognise that there is now wide consensus for this change - including from the three largest parties in Parliament and other non-political bodies such as the Institute for Government and current and former senior civil servants including the cabinet secretary."
The change was welcomed by Cabinet Office Minister Francis Maude, whose spokesman said: "The relationships between ministers and their permanent secretaries are the most important in Whitehall.
"We have long argued that it was appropriate for the Prime Minister to be given a choice of candidates deemed appointable by a panel chaired by the Civil Service Commission. We are pleased that the commission have now changed their position and agreed this."
Dave Penman, general secretary of the FDA union, which represents senior civil servants, said: "We broadly welcome today's announcement, balancing the argument for greater ministerial involvement in selecting heads of department with the fundamental principle of selection on merit."
He added: "Political impartiality is the cornerstone of a permanent civil service but it does not mean - and it has never meant - that there can be no ministerial involvement in the process of selection."