Rochester by-election date set for 20 November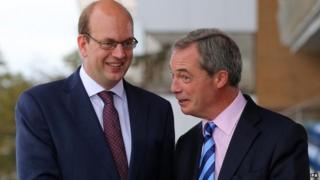 The by-election caused by the defection of Conservative MP Mark Reckless to UKIP will take place on 20 November.
In the Commons, Government Chief Whip Michael Gove moved the writ for the contest to take place in Rochester and Strood, Kent.
Labour has said the by-election could and should happen earlier.
But a Conservative source called this claim "ludicrous", as Parliament had been in recess since before Mr Reckless changed party.
This meant that, given the Speaker needs 24 hours' notice once the Commons is sitting before a writ can be moved, it had happened at the earliest possible point, they added.
Meanwhile, the Conservatives have narrowed their possible candidates down to a field of two.
They are asking the voters of Rochester and Strood, via a postal ballot, which of its two potential candidates they want to select - marine surveyor Kelly Tolhurst or former barrister Anna Firth.
Timings
Mr Reckless is contesting the Rochester seat for UKIP. He is hoping to replicate the success of fellow defector Douglas Carswell, who won Clacton in Essex in a by-election last week with a majority of more than 12,000.
This happened on the same day as Labour held on to Heywood and Middleton, Greater Manchester, but UKIP narrowed the party's majority in the seat to just 617.
Labour has accused the Conservatives of delaying the election to remove some of the momentum UKIP is enjoying following the success in Clacton.
A party source said of the chosen date: "They are going long because they are running scared of the voters."
But a Conservative source said: "It's ludicrous to suggest we've delayed the by-election date. We moved the writ as soon as we could and are carrying out a full postal primary which gives every single resident in Rochester and Strood a say on our candidate. This is about as democratic and open as by-elections come.
"If anyone's running scared it's Labour who timed their Heywood and Middleton by-election to coincide with the one in Clacton, to rob their opponents of a fair run - and even then they almost lost."
On Tuesday evening, Prime Minister David Cameron told his MPs he was "pumped up" for the Rochester and Strood by-election fight, and ordered each one of them to visit the constituency at least three times to help the campaign.
BBC political correspondent Robin Brant said Mr Cameron had told a private meeting of the backbench 1922 Committee the party would have to work "very, very hard" to retain the seat, he had emphasised the Conservatives' "positive message" and was applauded after an attack on Mr Reckless.
Mr Reckless won Rochester and Strood for the Conservatives with a 9,953 majority at the last general election.
The candidates announced so far, in alphabetical order, are:
Clive Gregory (Green)
Geoff Juby (Lib Dem)
Naushabah Khan (Labour)
Mark Reckless (UKIP)