Ed Miliband vows to fight for general election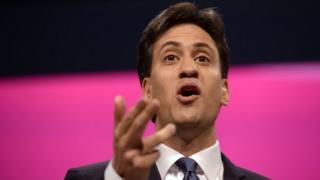 Ed Miliband has vowed to "fight with every fibre of my being" to win the next general election.
The Labour leader told his MPs there would be "ups and downs" in the run-up to polling day, but said a Labour government was "absolutely doable".
Labour narrowly won the Heywood and Middleton by-election last week after UKIP slashed its 5,971 majority to 617.
But Mr Miliband called for his party to resist the "division" of the past.
Addressing the Parliamentary Labour Party, he said: "Normally after an election we show disunity and division.
"We have had four years of unity. I am not going to let us, seven months before an election, start lapsing into the bad habits of the past."
'Opportunity'
After the close shave in Heywood and Middleton, UKIP leader Nigel Farage vowed to target Labour's northern strongholds at the 2015 general election.
Mr Miliband told the MPs at Westminster "things are going to be more difficult" in the run-up to the election and "this is not 1997", when Labour swept to a landslide victory under Tony Blair.
"There will be ups and downs which make the last few weeks look easy," he said.
"I know that we will pass that test."
He told the meeting: "There are about 200 days to go. I am going to fight with every fibre of my being to win this election. I expect every person in this room, I expect every person in this party, to do the same."
'Credibility'
Mr Miliband said returning to government after May's election is "absolutely doable" and "it is within our sights".
He added: "I am not going to let that opportunity slip".
The vast majority of the 20 MPs and peers who spoke at the meeting were reportedly supportive of Mr Miliband although a couple, said to include former minister Frank Field, raised concerns.
Earlier, one Labour MP, Graham Stringer, said the party had a "communications and credibility" problem.
Mr Stringer told BBC Radio 4's Today programme: "If you go on the doorstep, Ed isn't an asset to us. I don't think that's even a controversial thing to say, rather sadly.
"They think he doesn't understand the problems they are suffering."
While Labour had chosen to focus its Heywood campaign on the NHS, the Greater Manchester MP said the main issue for people in the constituency was immigration.
"You can't hope to win elections if you don't talk about what the people are talking about," he added. "We have a problem on both communications and credibility. People have to believe what we say and at the moment they simply do not do that."
Separately, the Labour List website said it had been told that media speculation about an imminent shadow cabinet reshuffle was "absolute nonsense".