Nigel Farage says UKIP is targeting all voters in Rochester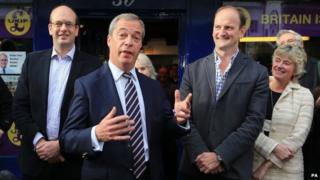 UKIP leader Nigel Farage has said his party is "targeting everybody", as he campaigns in Kent ahead of the Rochester and Strood by-election.
Mr Farage said UKIP was "its own force" and rejected any electoral pact with the Tories for the general election.
He was campaigning with two ex-Tories - Mark Reckless, who is standing for UKIP in Rochester, and Douglas Carswell, who has become UKIP's first elected MP.
Tory and Labour MPs have called for a response to UKIP's surge.
Mr Reckless, whose resignation as the Conservative MP for Rochester and Strood triggered a by-election, said UKIP would "bring decisions back from Westminster" and "put local communities in charge".
Mr Carswell urged voters to "choose change". He praised Mr Reckless for his decision to seek voters' approval in a by-election and criticised other parties for conducting "a highly personal, aggressive smear campaign" against the UKIP candidate.
Mr Farage said the result of Thursday's poll in Clacton, which Mr Carswell won for UKIP by 12,404 votes, was "absolutely phenomenal".
He again dismissed Conservative claims that voters who switched support from the Tories to UKIP risked handing power to Labour.
The evidence of Clacton was "vote UKIP, get UKIP", he said.
The Rochester by-election is expected to take place next month, but a date has not been set.
'Good protest vote'
Mr Farage said his party was "not a splinter" of the Tories and dismissed questions about any electoral pact with them.
"We want to win our own representation in Westminster and we believe only by doing that can we fundamentally change British politics," he said.
"To sell out so that one or two people can have ministerial positions is not what UKIP's about.
"I don't trust David Cameron. I don't believe a word David Cameron says and for that reason it would be fruitless to even enter into any negotiation."
Mr Reckless has reiterated that UKIP wants to "rebalance" immigration, which he said had held down wages for some workers and increased competition for jobs.
The Labour candidate for Rochester and Strood, Naushabah Khan, said voters had more pressing issues, such as "a hospital which is failing" and "60% of our primary schools which are failing".
The Liberal Democrat candidate, Geoff Juby, said his party "seem to be out on the streets a bit more" than Labour and the Conservatives.
Clive Gregory, standing for the Green Party, said a vote for him would be "a good protest vote" whereas UKIP represented "the same nonsense as the Conservatives".
The Conservatives will conduct a full postal ballot of constituents to select their candidate.
'Mutually-assured destruction'
Asked about the national picture, Tory MP Jacob Rees Mogg renewed calls for his party to make a pact with UKIP.
He told the Times newspaper that the impact UKIP has had on the Labour vote in northern England had been encouraging.
"We should think about what that means in terms of the UKIP-Conservative relationship because the Conservative family could win a majority on that basis," he said.
"Otherwise, the only thing we manage is mutually-assured destruction."
Mr Cameron on Friday repeated his warning that voting for UKIP could hand the general election to Labour.
This would mean "no action on immigration, no European referendum and - most importantly - you won't get a continuation of the plan that is delivering success for our economy and security for our people", he said.
However, in the wake of Labour's narrow victory over UKIP in another by-election this week, in Heywood, several of the party's MPs have expressed concerns about leader Ed Miliband's electoral strategy.
Former pensions minister Frank Field said "very large numbers" of Labour voters were unhappy with the way the party was performing.
"If last night's [Thursday's] vote heralds the start of UKIP's serious assault into Labour's neglected core vote, all bets are off for safer, let alone marginal seats at the next election," Mr Field said.
"Until we get that central to our message we're in trouble."
Shadow chancellor Ed Balls insisted Labour did have the answers to voters' concerns.
"If you want reform in Europe, tough and fair immigration rules, a national health service free at the point of use, a higher minimum wage and action in a fair way to tackle the cost of living crisis... there's no point in voting Tory, [and] there's no point in voting UKIP," he said.
---