Bercow spokeswoman quits after Lib Dem speech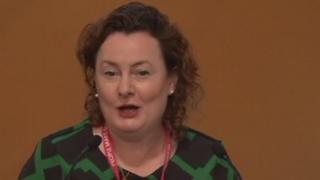 A spokeswoman for Commons Speaker John Bercow has resigned after a speech at the Liberal Democrat conference in which she dismissed rival parties as a "collection of clowns".
In her speech in Glasgow, Justine McGuinness said the Conservatives would "aim to buy" the next election.
The House of Commons said she "now wishes to pursue other interests".
Ms McGuinness was "within the rules" in making the speech, BBC Newsnight's Laura Kuenssberg said.
'Ugly business'
Speaking in a personal capacity at the conference in Glasgow on Tuesday, Ms McGuinness told activists how she believed the next election would be contested.
She said: "Let no-one here fool themselves. The next general election campaign will be a really ugly business.
"The Tories will aim to buy the election, with the millions of pounds donated to them by their hot money hedge fund friends. Labour will seek to steal the election, relying on an electoral system so biased in their favour that 35% of the vote could deliver them 55% of the seats."
UKIP would try to "hijack" the election, she predicted, turning it into an argument about Europe and immigration.
She added: "The one thing that will connect this collection of clowns will be a desperate attempt to marginalise the Liberal Democrats, for what they all fear, above all else, is that once again, the British people will put the balance of power into our hands."
In a statement, the House of Commons communications service said: "After a year in post Justine McGuinness has offered her resignation to the Speaker, which has been accepted.
'Important feature'
"The Speaker thanks Ms McGuinness for her hard work and commitment over the last 12 months.
"She has contributed considerably to the running of the Speaker's Office but now wishes to pursue other interests."
Ms McGuiness stood as a Lib Dem candidate in the Dorset West constituency in the 2005 general election, coming second behind Conservative Oliver Letwin.
BBC political correspondent Chris Mason said he understood Ms McGuinness had not expected to be called to speak in Tuesday's debate "but realised soon afterwards that what she had said made her position working for the Speaker untenable".
He added: "Critics of the Speaker are likely to seize on her resignation as what they will see as proof of John Bercow's poor judgement - in appointing someone to work for him with obvious party political affiliations and a continued desire to express them."
According to the UK Parliament's website: "The political impartiality of the Speaker is one of the office's most important features - and most emulated or aspired to outside the UK."